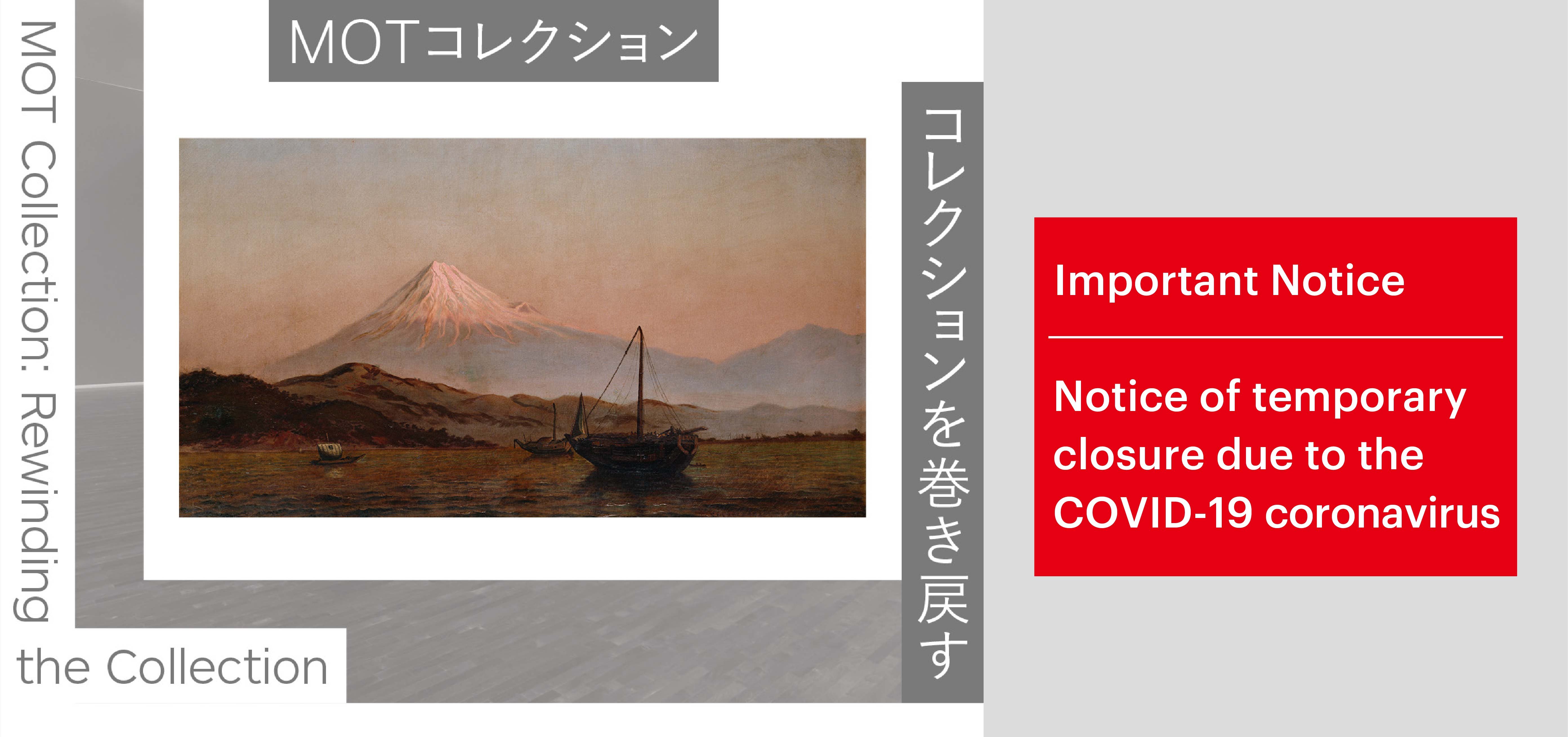 MOT Collection:
Rewinding the Collection
Announcement
The exhibition "MOT Collection: Rewinding the Collection" will be closed for a while in order to prevent further spread of COVID-19. Click here for details.
Part1: Before Postwar Art to its Beginnings

Part2: Back to the Startline of the MOT


Outline
The Museum of Contemporary Art Tokyo houses approximately 5,500 artworks in its extensive collection, which spans the modern and contemporary periods with a focus on art of the postwar years. In an aim to communicate the diverse appeal of contemporary art, each installment of the "MOT Collection" exhibition serves to introduce artworks in the collection from various themes and angles in order to offer visitors with an opportunity to engage with even the same works from various perspectives. On this occasion we bring our focus to the origin and history of the collection, presenting two sections that introduce a variety of works that span a wide range of periods and regions, from modern paintings collected during the "Tokyo Prefectural Art Museum" era* to large-scale overseas works collected when the Museum of Contemporary Art opened.

*When the Museum of Contemporary Art Tokyo opened in 1995, more than 3,000 works previously owned by the Tokyo Metropolitan Art Museum (opened as the Tokyo Prefectural Art Museum in 1926 and renamed in 1943) were transferred.

MOT Collection List of Works (PDF)
MOT Collection Leaflet (PDF)
Artists
ASAI Chu, ASO Saburo, ONCHI Koshiro, KATSURA Yuki, KANOKOGI Takeshiro, KISHIDA Ryusei, KITADAI Shozo, GOSEDA Yoshimatsu, KOMAI Tetsuro, KUNIYOSHI Yasuo, TANAKA Atsuko, TSURUOKA Masao, NAKAHARA Minoru, FUKUSHIMA Hideko, MAKINO Torao, MATSUMOTO Shunsuke, MADOKORO (AKUTAGAWA) Saori, YAMAGUCHI Takeo, YOSHIHARA Jiro, Anselm KIEFER, Roy LICHTENSTEIN, Andy WARHOL and more
* All Programs are subject to change.
Information
Dates

Sat. 14 November 2020 – Sun. 14 February 2021
*MOT Collection will be temporary closed from Sat 2 January to Tue 12 January, 2021 in order to prevent further spread of COVID-19. As such, we will cancel the free admission to "MOT Collection" on 2 & 3 January.


Closed

Mondays (except 23 Nov., 11 Jan. 2021), 24 Nov., 28 Dec. 2020 – 1 Jan. 12 Jan. 2021

Opening Hours

10:00-18:00
(Tickets available until 30 minutes before closing)
* The outdoor part of the exhibition is open from 10:00-16:00


Admission

Adults – 500yen
University & College Students – 400yen
High School Students, Over 65 – 250yen
Free for under Junior High School Students & Temporary Exhibition tickets holders

* Tickets for the "Eiko Ishioka: Blood, Sweat, and Tears—A Life of Design", "MOT Annual 2020 Invisible Powers" and the Combined Tickets also include admission to the "MOT Collection" exhibition.
When you enter the special exhibitions during the closure of "MOT Collection"-The closed period: Sat 2 January-Tue 12 January, we will provide you tickets for "MOT Collection" that can be used after 13 January.
Click here for datails.
* Children younger than elementary school age need to be accompanied by a guardian.
* Persons with a Physical Disability Certificate, Intellectual Disability Certificate, Intellectual Disability Welfare Certificate, or Atomic Bomb Survivor Welfare Certificate as well as up to two attendants are admitted free of charge.

Venues

Museum of Contemporary Art Tokyo,
Collection Gallery 1F / 3F

Organized by

Tokyo Metropolitan Government,
Museum of Contemporary Art Tokyo operated by Tokyo Metropolitan Foundation for History and Culture