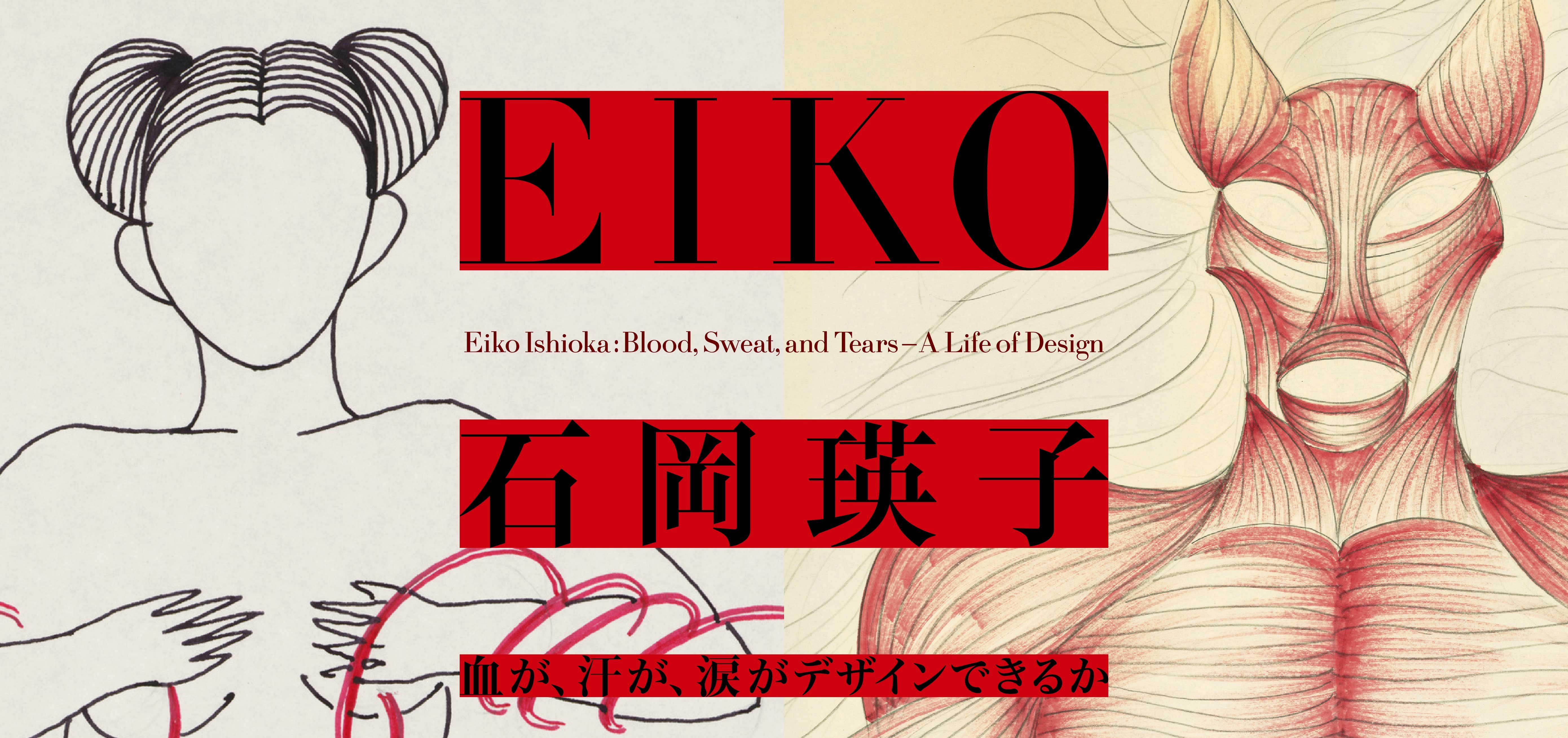 Eiko Ishioka: Blood, Sweat, and Tears—A Life of Design
The Museum of Contemporary Art Tokyo (MOT) is pleased to present the world's first large-scale retrospective exhibition dedicated to Eiko Ishioka (1938-2012), an internationally renowned art director and designer who ignited with her work a new era in various fields including advertising, theater, cinema, and graphic design. The exhibition takes a comprehensive look at Ishioka's distinctive, incandescent creations, from her groundbreaking ad campaigns from early in her career, to her design work for films, opera, theater, circuses, music videos, and projects for the Olympic Games.
Highlights
Introducing Eiko Ishioka's Design Process though Collaborations
As described in detail in her autobiography, I DESIGN (Kodansha Ltd., 2005), Eiko Ishioka's work has also been realized through a series of robust collaborations with great masters in their respective fields, such as Miles Davis, Reni Riefenstahl, Francis Ford Coppola, Björk, and Tarsem Singh. Along with extensive materials regarding her design process, the exhibition introduces and attempts to approach the secrets of "Eiko Ishioka's Practice" which considers means of exerting individual creativity in the context of group production.

Experience the Overwhelming Fervor of Eiko Ishioka's Design
This highly enthusiastic exhibition invites visitors to experience Eiko Ishioka's works and her ongoing creations, which while harboring the vibrant dynamism of the human body at its core and focuses on "red" as a key color, have a great visual impact and exude emotion. Also presented on this occasion is a valuable selection of costumes from the Hollywood Academy and other archives around the world, centering on those that Ishioka had designed for Bram Stoker's Dracula (1992) for which she won the Academy Award for Best Costume Design, as well as other cinema and theater productions including The Fall (2006), Mirror Mirror(2012), and The Ring of the Nibelung (1998-1999) at the Dutch National Opera.

Timeless, Original, Revolutionary… The Power of Creation that Ignites a New Era and Traverses Boundaries
In her series of work such as her posters for Shiseido (1966) featuring Bibari Maeda, which could be considered as a milestone in the history of design, and her advertisement campaigns for Parco in the 1970s to 1980s, Eiko Ishioka ignited a new era by presenting the liberated female image and contrasting and integrating the cultures of the Orient and the rest of the world. Since relocating her life and practice overseas in 1980, she took it on herself to confront various difficulties and challenge all areas of design under her motto "survive." The works of Eiko Ishioka, who heralded the themes of "Timeless, Original, Revolutionary" as the essence of her design, and constantly continued to explore and expand the possibilities of "the self," indeed delivers a powerful message to us living today in 2020.
Exhibition Overview
1 Timeless: Designing the Times
Eiko Ishioka renewed existing frameworks such as gender, national borders, race, and through visual language served to propose new ways of life to society. Bringing focus to her graphic, editorial, product designs, and other commercial projects, the exhibition traces the development and maturity of Japanese popular culture through looking at consumer behavior, spanning from the nation's period of high economic growth in the 1960s, up until the 1980s. Ishioka's attitude of attempting to both design and transcend the times is that which predicts her activities and practices thereafter.

Projects: Advertisement campaigns for Shiseido, Kodokawa Shoten, and Parco (posters, commercials, 1960s-1980s), Kadokawa Shoten Yasei Jidai (magazine, 1974-1978) and others.

2 Fearless: Designing Encounters
Since the mid-1980s, Eiko Ishioka expanded her activities from Japan to the world through new encounters with various creators, also transcending the realm of expression in design to work in graphic design, art direction, costume design, and production design. Ishioka opened up possibilities for design through collaborations, while confronting the question of how to maintain the identity of individual creation and show originality within the mammoth entertainment industry.

Projects: Collaborations with Leni Riefenstahl (exhibitions, publications etc. 1980/1991), Miles Davis TUTU (record album, 1986), M. Butterfly (theater production, 1988), Chushingura (opera, 1997), MISHIMA―A Life in Four Chapters (film, 1985), Bram Stoker's Dracula (film, 1992) and others.
3 Borderless: Designing the Future
The exhibition introduces Ishioka's costumes for opera, films, circuses, as well as her uniforms for the Olympic Games in order to present a cohesive overview of her work that serves to expand the body, and design unknown visual realms that transcend individual attributes such as ethnicity, age, and region. Ishioka's practice in the latter half of her life, expands human possibilities to the fullest extent with universal themes of eternity, rebirth, dreams, and adventure as a foothold, and also overlaps with her own life in which she had continued to boldly transgress borders to venture into new realms.

Projects: The Cell (film, 2000), The Fall (film, 2006), Grace Jones, Hurricane Tour (concert tour, 2009), Cirque du Soleil, Varekai (contemporary circus, 2002), Björk Cocoon (music video, 2001), Salt Lake City Olympics (uniform, 2002), Beijing Olympics (opening ceremony, 2008), The Ring of the Nibelung (opera, 1998-1999), Mirror Mirror (film, 2012) and others.
Profile of Eiko Ishioka
Born in Tokyo in 1938. Graduated from Tokyo National University of Fine Arts and Music; entered the cosmetics company, Shiseido. Ishioka came to the fore with her design for the summer campaign (1966), which became a social phenomenon. Opening her own firm, she continued to produce historic ad campaigns for Parco, Kadokawa Shoten, and other companies. Relocating to New York in the early 1980s, she worked in fields ranging from movies to opera, circus, the stage, and music videos. Ishioka won a Grammy Award (1987) for her design of Mile Davis's album TUTU and the Academy Award for Best Costume Design (1992) for the movie, Bram Stoker's Dracula. She served as director of costume design for the opening ceremony of the 2008 Beijing Olympics. Died in 2012.
*All Programs are subject to change.
Information
Exhibition Period

Sat. 14 November 2020 – Sun. 14 February 2021

Closed

Mondays (except 23 Nov., 11 Jan. 2021), 24 Nov., 28 Dec. 2020 – 1 Jan. 2021, 12 Jan.

Opening Hours

10:00-18:00 (Tickets available until 30 minutes before closing.)

Admission

Adults – 1,800yen / University & College Students, Over 65 – 1,300yen / High School & Junior High School Students –700yen / Elementary School Students & Younger – Free

* Ticket includes admission to the MOT Collection exhibition.
MOT Collection exhibition will be closed from Sat 2 January to Tue 12 January, 2021 in order to prevent further spread of COVID-19. Click here for details.
* Children younger than elementary school age need to be accompanied by a guardian.
* Persons with a Physical Disability Certificate, Intellectual Disability Certificate, Intellectual Disability Welfare Certificate, or Atomic Bomb Survivor Welfare Certificate as well as up to two attendants are admitted free of charge.
* There are also Combined ticket for two special exhibitions. Click here for details.


Venue

Museum of Contemporary Art Tokyo Exhibition Gallery 1F / B2F

Organized by

Museum of Contemporary Art Tokyo operated by Tokyo Metropolitan Foundation for History and Culture, The Yomiuri Shimbun, The Japan Association of Art Museums

Sponsored by

Lion Corporation, Dai Nippon Printing Co., Ltd., Sompo Japan Insurance Inc., Nippon Television Network Corporation, Parco Co., Ltd. etc. (tbc)

In Cooperation with

DNP Foundation for Cultural Promotion, Shiki Theatre Company, Shiseido Co., Ltd., Nanasai Co., Ltd. etc. (tbc)

Supported by

Embassy of the Kingdom of the Netherlands in Tokyo

Endorsed by

Japan Graphic Designers Association Inc.
Artwork images:
(top right) Eiko Ishioka, Costume Design Drawing for Vlad Dracula's Red Muscle Armour, for the movie Bram Stoker'
s Dracula, directed by Francis Ford Coppola, 1992, Collection of Margaret Herrick Library, Academy of Motion Picture Arts and Sciences
(top left) Eiko Ishioka, Storyboards for Cocoon, for the Music Video by Björk, directed by Eiko Ishioka, 2001, Courtesy of the Margaret Herrick Library, Academy of Motion Picture Arts & Sciences
Exhibition Catalog
Publisher: Shogakukan Inc.
Price: 3,500 yen(tax included)
Contributors: Tadao Ando, Kazuko Koike,Seigow Matsuoka, Hiroshi Sugimoto, Taku Sato, Yuriko Kuchiki,
Tomoko Yabumae [Interview with Pierre Audi (theater director)]
Design: Hiroyuki Nagai, Ryoko Ishioka
Number of pages: 300
*The price, format, and contents are subject to change.
Please check the details.