 Jean Prouvé
Constructive Imagination
Jean Prouvé: Constructive Imagination is a large-scale exhibition introducing the oeuvre of Jean Prouvé (1901–1984), whose influence remains significant in the 20th-century architecture and industrial design. Organized thematically, the exhibition will feature over a hundred pieces of emblematic furniture and architectural works along with archived materials.

Born to painter and musician parents active in Nancy school, a group of the Art Nouveau movement that flourished in the late 19th century in France, Prouvé began his career as an artist–blacksmith. In the 1930s, he expanded his field of production from furniture to architecture, turning to a more experimental, avant-garde approach by using new materials such as steel. During and after the Second World War, he produced a number of innovative pieces such as prefabricated housing for post-war reconstruction in France, while being active in the resistance movement and serving as the mayor of Nancy for a brief period during the war.
The exhibition begins by unfolding the chapters of Jean Prouvé's life, followed by the presentation of a wide selection of iconic pieces. They include the "Centrale" table (1956), "Présidence" No. 201 desk (ca. 1955), Lighting ramp (1954), Rolling step-ladder (1951), and a unique prototype of Lift-up table with drawer (1943), which was a milestone in Prouvé's move towards industrial production, and panels with portholes.
In response to growing market demands for mass production, he designed furniture for public authorities and universities in the 1930s. Among all furniture, chairs remained particularly significant for Prouvé, for they require meeting imperatives of solidity and ergonomics, as well as preserving their aesthetic qualities. As he stated that "…a viable structure for a piece of furniture is as difficult and skilful to compose as a structure for a large construction," chairs are a perfect example of Jean Prouvé's constructive principles. The exhibition dedicates a large section to the presentation of his chairs that underwent evolutions over the years including "Cité" armchair (ca. 1932) and "Conférence" No. 355 chair (1954), among many other models.
In the 1950s, Jean Prouvé sought markets overseas and created furniture and aluminum facades for French colonial territories in Africa. The exhibition includes the series called "variant for Africa," which includes "S.A.M." No. 506 table, variant for Africa (1952), "Tropique" No. 351 armchair (1950), and Sun shutters made for Guinea and Cameroon.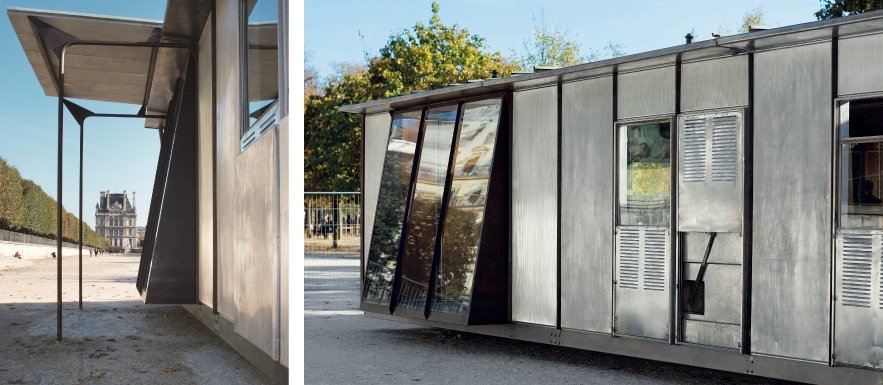 Furthermore, over thirteen architectural projects will be on display, highlighting Prouvé's approach to architecture as a "constructor" as he called himself. F 8x8 BCC house (1942), and 6x6 Demountable house (1944) , "Métropole" house (1949)– Prouvé's emblematic projects of dismountable architecture – will be one of the highlights of the exhibition. The structure of "Métropole" house will erupt in the middle of the gallery and its facades will be displayed on the wall. The F 8x8 BCC house designed and built by Prouvé and Pierre Jeanneret during the Second World War will be re-assembled in the Atrium. The piece attests to the two men's extraordinary faculty for adaptability and is a brilliant example of their unceasing quest for modernity. The 6x6 Demountable house, designed by Prouvé in 1944 as temporarily housing for the refugees in Eastern France, will be presented as parts laid out on the wall. All of these occupy an important place in the architectural history in France.

The exhibition comes to an end with a screening room with Prouvé's lecture hall benches, which visitors are invited to sit in order to view the archival footage that includes Prouvé's interview. During the exhibition, a series of public events such as a symposium, gallery tours, a children's workshop and talk sessions will be organized.

List of works
Exhibition Guide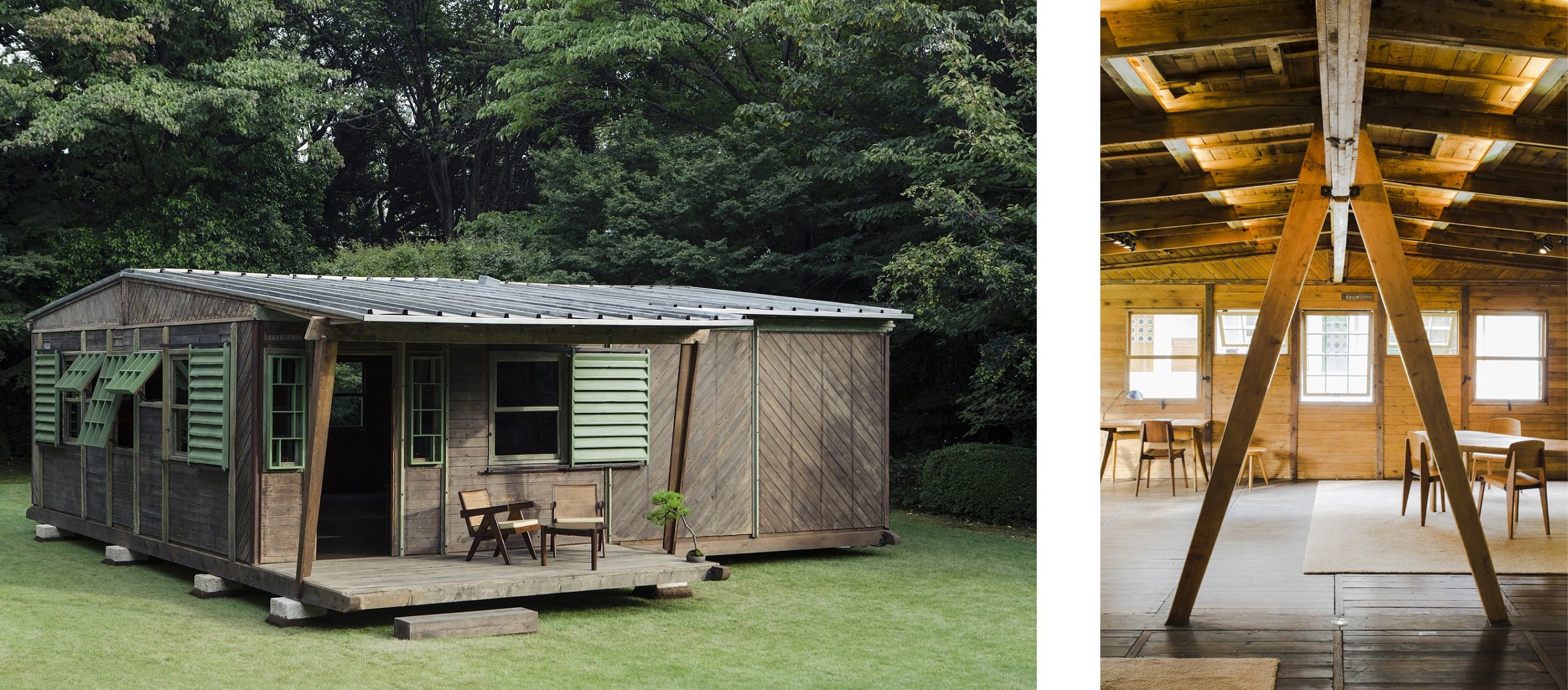 Information
Exhibition Period

Saturday, 16 July-Sunday, 16 October 2022

Closed

Mondays (except 18 Jul., 19 Sep., 10 Oct.), 19 Jul., 20 Sep., 11 Oct.

Open Hours

10:00-18:00(Tickets available until 30 minutes before closing.)

Venue

Museum of Contemporary Art Tokyo Exhibition Gallery 1F / B2F

Admission

Adults – 2,000 yen / University & College Students, Over 65 – 1,300 yen / High School & Junior High School Students – 800yen / Elementary School Students & Younger – Free

* Ticket includes admission to the MOT Collection exhibition.
* Children younger than elementary school age need to be accompanied by a guardian.
* Persons with a Physical Disability Certificate, Intellectual Disability Certificate, Intellectual Disability Welfare Certificate, or Atomic Bomb Survivor Welfare Certificate as well as up to two attendants are admitted free of charge.
*Student Day Supported by Bloomberg: 30, 31 Aug., 1, 2, Sep., student can visit Jean Prouvé exhibition for free (with valid ID).
*We recommend that you purchase reserved priority tickets in advance. [Advance reservation]

Organized by

Museum of Contemporary Art Tokyo operated by Tokyo Metropolitan Foundation for History and Culture, Contemporary Art Foundation

Under the patronage of

Embassy of France / Institut français du Japon

Sponsored by

Bloomberg L.P.

Supported by

YAMATO TRANSPORT

Curated by

Galerie Patrick Seguin, Tamotsu Yagi Design

Academic support by

Tatsuo Iwaoka
STUDENTS DAY Supported by Bloomberg
30 Aug to 2 Sep, students can visit the Jean Prouvé exhibition for free with a valid ID. Please show your ID at the ticket counter.
Workshop "Create and Talk Together"
Exhibition-Related Workshop "Create and Talk Together" will be held on 23 September 2022. The architect and artist unit 2m26 from Nancy in France, the hometown of Jean Prouvé will direct this workshop. Check more details here.
Exhibition Catalogue
『ジャン・プルーヴェ 椅子から建築まで』
"Jean Prouvé Constructive Imagination"
The catalogue contains dozens of Jean Prouvé's works including many pieces of furniture, architecture, drawings, and also photographs of this exhibition.

Art direction: Tamotsu Yagi
Preface: Patrick Seguin
Commentary: Juliet Kinchin(Former Curator of MoMA, Department of Architecture and Design)
Contributor: Reiko Hayama (former staff of atelier jean prouvé), Naho Tamura (Designer based in NY), Tamotsu Yagi, Mitsuhiro Kanada (Structural Engineer, ARUP Tokyo, Professor of Tokyo University of the Arts)
Photographer: Yurika Kono, Osamu Sakamoto, NIicolas Bergerot
Book size: 266mm×17.5mm×216mm, Softcover
Pages: 232pages
Language: English/Japanese
Special prices at NADiff contemporary:3,000 JPY ※Only during the exhibition
Usual price: 3,080 JPY

On sale at the museum shop and NADiff online site.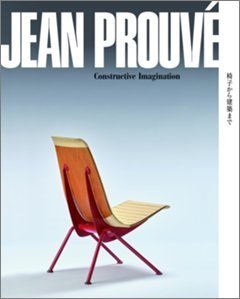 Events
Related workshops will be held.
※Please visit the museum website for updates and more details.

Student Day Supported by Bloomberg
From 30 August to 2 September, students can visit Jean Prouvé exhibition for free with a valid ID.
* All programs are subject to change.