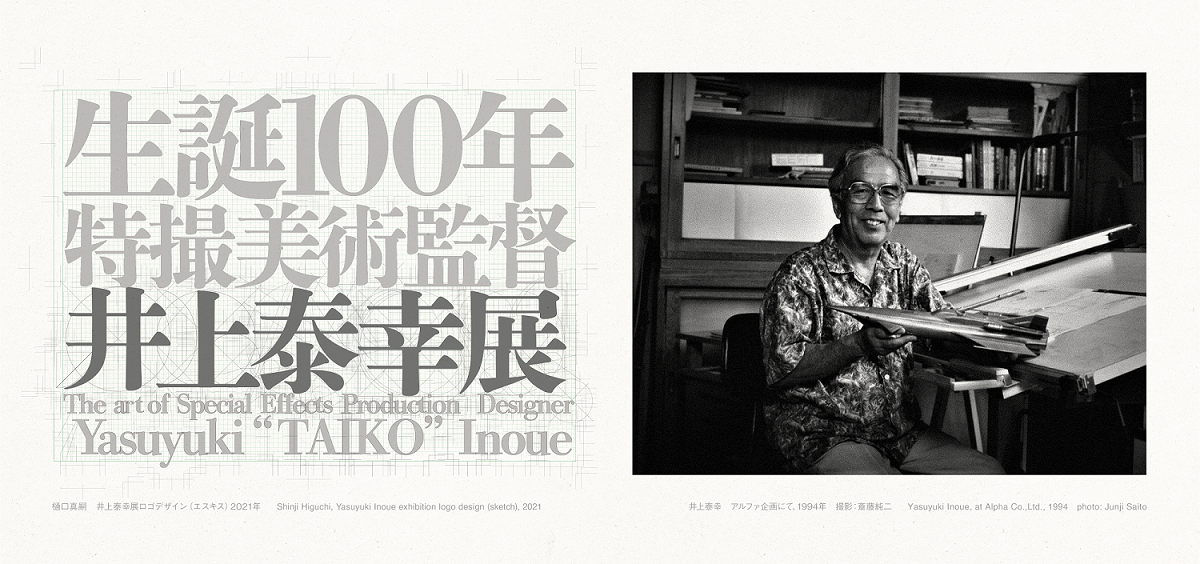 The art of Special Effects Production Designer
Yasuyuki "TAIKO" Inoue
The Museum of Contemporary Art Tokyo (MOT) announces a new exhibition featuring the work of the special effects production designer Yasuyuki Inoue (1922-2012), who left a significant mark on the history of Japanese cinema, and celebrating the centennial of his birth. Inoue truly began his career when he joined legendary SFX director Eiji Tsuburaya's team for the production of GODZILLA (1954). In the years that followed, Inoue served as art director and production designer for many memorable Japanese films and television shows. Tracing Inoue's path through the world of special effects, the exhibit includes his sketches, concept designs, storyboards, and research photos along with miniatures, props, and a full-scale replica of a movie set. This window into Inoue's imaginative worlds is sure to inspire new generations of film and TV enthusiasts.

In 2012, MOT held the exhibition titled "Director, Hideaki Anno's TOKUSATSU Special Effects Museum-Craftsmanship of Showa & Heisei eras seen through miniatures" which showcased the artistry, craftsmanship, and cultural legacy of the traditional, pre-digital Japanese SFX. More than 300,000 visitors of all ages attended; the exhibition's success led to the establishment of the Anime Tokusatsu Archive Centre (ATAC), Chief director Hideaki Anno, and shed new light on the study of Japanese SFX, particularly in the area of miniatures. Yasuyuki Inoue's drawings and sketches were included in the "Special Effects Museum," but unfortunately he passed away before it opened. In this new exhibition, MOT focuses solely on Inoue and his work.

Inoue was born in Koga in Fukuoka Prefecture. He served in World War II and returned to Japan as a disabled veteran. After the war, he studied art and design under Iwao Yamawaki, a Bauhaus-trained architect, at Nihon University. Inoue eventually joined Toho Studios and became Eiji Tsuburaya's right-hand man. After his predecessor Akira Watanabe's departure, Inoue was promoted to special effects production designer.

Affiliated with ATAC and other organizations related to Inoue, this exhibition will explore various facets of Inoue's work and consider his influence over contemporary animators and filmmakers, such as Hideaki Anno (known for SHIN GODZILLA) and Shinji Higuchi (known for SHIN ULTRAMAN).

List of works
Highlights of the exhibition
1 Life of Yasuyuki Inoue
Inoue started his career at Shintoho Studios in 1953. The following year, he moved to Toho Studios, where he became SFX director Eiji Tsuburaya's right-hand man. After Inoue became a freelancer in 1971 and founded his own effects company, called Alpha, he continued working for the studios as a production designer, developing SFX design into a sophisticated art form. Through the works and sketches that he left behind, the exhibition will focus on Inoue's whole life and his relationship with the artists of his time. We exhibit an unprecedented scale, including preciously unseen materials, and provide an overview of the artist based on in-depth research.
2 Style of Yasuyuki Inoue
Inoue not only designed miniature sets but also created monsters, most notably Hedorah. Inoue supported his work with thorough research and observation. To pursue his goals, Inoue laid out drawings, drew sketches and managed the budget through his original ''set design.'' He also invented various behind-the-scenes devices such as a water dunk tank device and a giant outdoor water tank (nicknamed the "big pool"). From the streets of Tokyo to outer space, Inoue replicated the real world. The exhibition showcases Inoue's creations through storyboards, documentary photography, props, models, scripts and schedule plans.
3 Inoue's Lasting Influence and Work of His Successors:
―Graphic Designs of the Exhibition and a Movie Set Replica
The exhibition was created by the SFX artists who walk in Inoue's footsteps. It has received cooperation from Hideaki Anno's Anime Tokusatsu Archive Centre, and graphic designs were contributed by filmmaker Shinji Higuchi. In addition, Inoue's beloved apprentice Toshio Miike (Tokusatsu Research Institute) produced a full-scale replica of the miniature set that Inoue made for RODAN (1956). This 1/20-scale detailed model of the city of Fukuoka was built by Marbling Fine Arts (a company specializing in SFX miniature manufacturing since 1974) and it will be displayed in the Atrium with a backdrop by award-winning painter Fuchimu Shimakura. While enjoying a filming simulation, visitors can appreciate the scale and quality of Inoue's work and the technologies of the analog SFX.
Works, Articles on Exhibition
Along with a full-scale replica of the RODAN miniature set, the exhibition includes more than 500 examples of Inoue's artwork (sketches, drawings, storyboards), documentary photography, documents, props and models used for movies and TV shows including GODZILLA (1954), RODAN (1956), KING KONG VS. GODZILLA (1962), ATRAGON (1963), ULTRA Q (1966), THE WAR OF THE GARGANTUAS (1966), BATTLE OF THE JAPAN SEA (1970), GODZILLA VS. HEDORAH (1971), SUBMERSION OF JAPAN (1973), THE WAR IN SPACE (1977), THE IMPERIAL NAVY (1981), GODZILLA (1984) and PRINCESS FROM THE MOON (1987).
*All exhibits and programs are subject to change.

Information
Exhibition Period

Sat. 19 March – Sun. 19 June 2022

Closed

Mondays (except 21 March), 22 March

Opening Hours

10:00-18:00 (Tickets available until 30 minutes before closing.)

Admission

Adults –1,700yen / University & College Students, Over 65 –1,200yen / High School &
Junior High School Students –600yen / Elementary School Students & Younger – Free

* Ticket includes admission to the MOT Collection exhibition.
* Children younger than elementary school age need to be accompanied by a guardian.
* Persons with a Physical Disability Certificate, Intellectual Disability Certificate, Intellectual Disability Welfare Certificate, or Atomic Bomb Survivor Welfare Certificate as well as up to two attendants are admitted free of charge.
*Those who are 18 years old or younger will be admitted for free from Saturday, 19 March to Sunday, 3 April. (A document to prove your age is required.)
*We recommend that you purchase reserved priority tickets in advance. [Advance reservation]

Venue

Museum of Contemporary Art Tokyo Exhibition Gallery B2F

Organized by

Museum of Contemporary Art Tokyo operated by Tokyo Metropolitan Foundation for History and Culture / The Asahi Shimbun Company

Supported by

Support Program to Promote Archives of Media Arts 2021

In Collaboration with

The Yasuyuki Inoue Memorial Committee / TOKUSATSU LAB.CO.,LTD / Anime Tokusatsu Archive Centre

In Cooperation with

TOHO CO., LTD. / TSUBURAYA PRODUCTIONS Co., Ltd. / KADOKAWA CORPORATION / TOEI COMPANY,LTD. / P-Production / SUKAGAWA TOKUSATSU ARCHIVES CENTER / Mori Building Co., Ltd. / K's DESIGN LAB, Inc.
Exhibition Events
Related programs are planned to be held during the exhibition.
-The exhibition events include lectures, gallery talks (Toshio Miike, Shinji Higuchi, etc.) / studio workshops (associated with Marbling Fine Arts).
*Event activities and schedules may change without notice. *For information, please visit the museum's website.
Concurrent Exhibitions