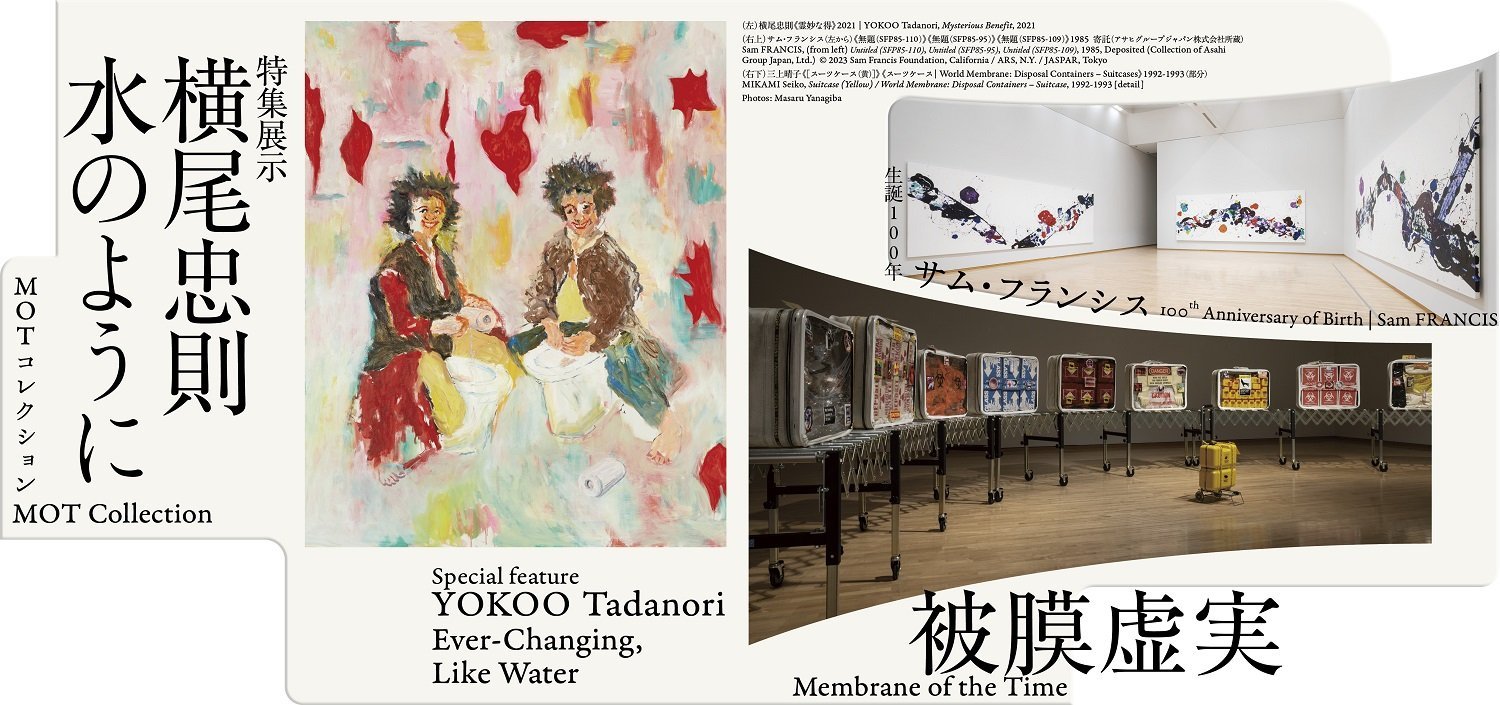 MOT Collection
Membrane of the Time
Special feature | YOKOO Tadanori―Ever-Changing, Like Water
100th Anniversary of Birth | Sam FRANCIS
The Museum of Contemporary Art Tokyo houses approximately 5,700 artworks in its extensive collection, which spans the modern and contemporary periods with a focus on art of the postwar years. Each installment of the "MOT Collection" exhibition introduces artworks in the collection from various themes and angles in its effort to convey the diverse appeal of contemporary art.
On the 1st floor, works from the end of the 1980s onward will be presented under the title, "Membrane of the Time". Starting with recently acquired works by MIKAMI Seiko, we introduce a diverse selection of works including those by ISHIHARA Tomoaki, HIRAKAWA Noritoshi, HOMMA Takashi, KAIHATSU Yoshiaki, KATO Mika, NAWA Kohei, MOMOSE Aya, HAN Ishu, Thomas DEMAND, FANG Lijun in an attempt to look at the changing concepts of the body and outlook on life that is observed there.
The 3rd floor section titled, "Special feature: YOKOO Tadanori―Ever-Changing, Like Water" introduces works centering on those added to the museum's collection on the occasion of the artist's solo exhibition held in 2021. Featuring Yokoo's oeuvre spanning from the 1960s to recent, the exhibit explores new appeals of his artistic practice through focusing on expressions related to "water" that appears in many of his rich variety of works. In addition, works by artists with a deep connection to Yokoo will be presented.
Visitors are also invited to enjoy a series of large-scale paintings by Sam FRANCIS, of which this year marks his centennial.

*Please be informed that the contents of the exhibit may be subject to change.

List of Works
Pamphlet
Special feature | YOKOO Tadanori―Ever-Changing, Like Water - Work Captions

"o to da te" and "no zo mi" (PDF)
Artists
ISHIHARA Tomoaki, IBA Yasuko, UMEZAWA Kazuki, OZAWA Tsuyoshi, KAIHATSU Yoshiaki, KATO Mika, KANEUJI Teppei, CHIBA Masaya, NAWA Kohei, HAN Ishu, HIRAKAWA Noritoshi, FANG Lijun, FUKUDA Miran, HOMMA Takashi, MIKAMI Seiko, MURASE Kyoko, MOMOSE Aya, YOKOO Tadanori, Thomas DEMAND, Sam FRANCIS, David HOCKNEY, Jasper JOHNS, Andy WARHOL Tom WESSELMANN and more
Membrane of the Time
Special feature | YOKOO Tadanori―Ever-Changing, Like Water
100th Anniversary of Birth | Sam FRANCIS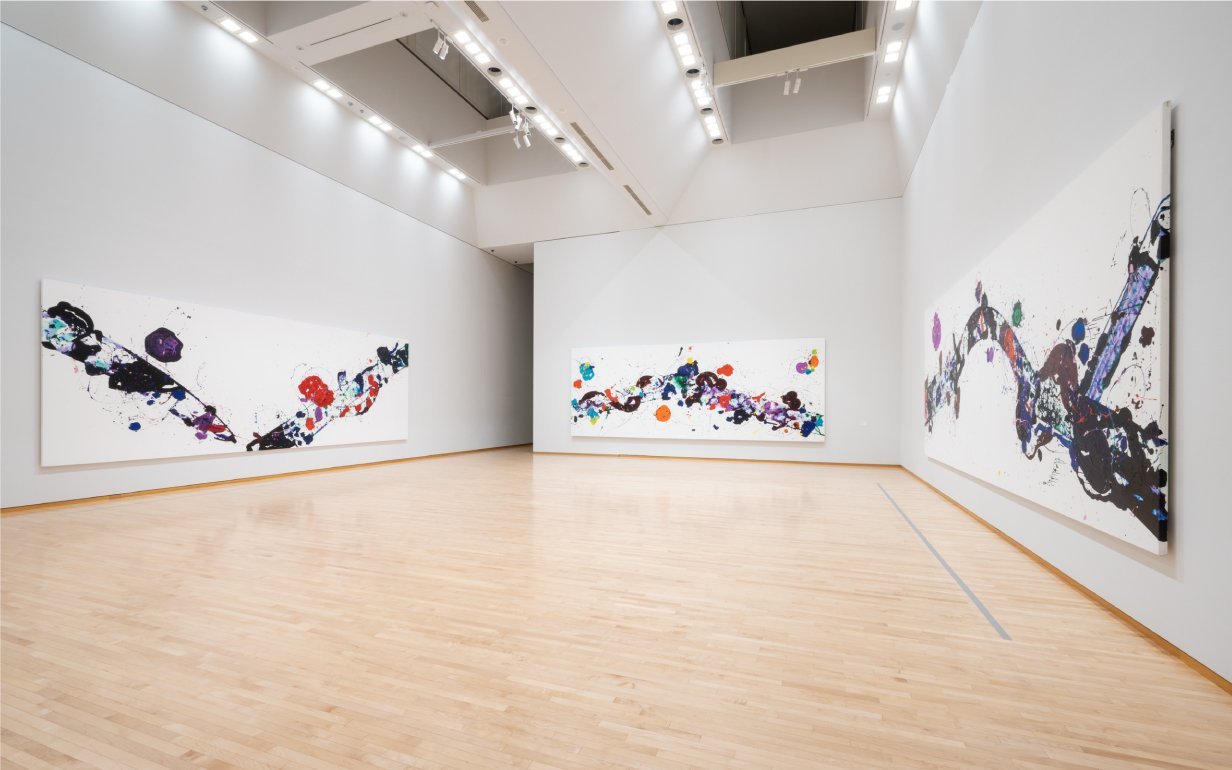 2023 marks the centennial of Sam Francis (June 25, 1923 – November 4, 1994). Sam Francis Foundation celebrates the 100th anniversary of Francis's birthday and his continued creative legacy through exhibitions, educational events, special projects, articles, and archival explorations. Inviting scholars, colleagues, artists, institutions, and historians, this commemorable year will explore their relationship with Francis, his art, his creative legacy, and his inspiration.
Information
Exhibition Period

Saturday, 15 July - Sunday, 5 November 2023

Closed

Mondays (except 17 Jul., 18 Sep., 9 Oct.) and 18 Jul., 19 Sep., 10 Oct.

Opening Hours

10:00-18:00 (Tickets available until 30 minutes before closing.)


Admission

Adults - 500 yen (400yen) / University & College Students - 400 yen(320yen) / High School Students & Adult over 65 - 250 yen(200yen) / Free for under Junior High School Student & Temporary Exhibition tickets holders

*(  ) Price for a group over 20 people.
* Tickets for the "DAVID HOCKNEY","How I feel is not your problem, period."include admission to the "MOT Collection" exhibition.
* Children younger than elementary school age need to be accompanied by a guardian.
* Persons with a Physical Disability Certificate, Intellectual Disability Certificate, Intellectual Disability Welfare Certificate, or Atomic Bomb Survivor Welfare Certificate as well as up to two attendants are admitted free of charge.
* Admission to MOT Collection is free on Tokyo Citizen's Day, Sun. 1 Oct., 2023.


Venue

Museum of Contemporary Art Tokyo, Collection Gallery

Organized by

Tokyo Metropolitan Government, Museum of Contemporary Art Tokyo operated by Tokyo Metropolitan Foundation for History and Culture
Sam FRANCIS, Untitled (SFP85-110) | The process for installing
The large-size paintings of Sam Francis (Collection of Asahi Group Japan, Ltd.) on deposit at the Museum of Contemporary Art Tokyo are stored in rolls. In the video documentation, you can see the process for installing the works in the collection gallery. It includes some scenes that restorers open the canvas of Untitled (SFP85-110) and attach it to its wooden frame. The video was shot and edited on the occasion of the collection exhibition in 2014.