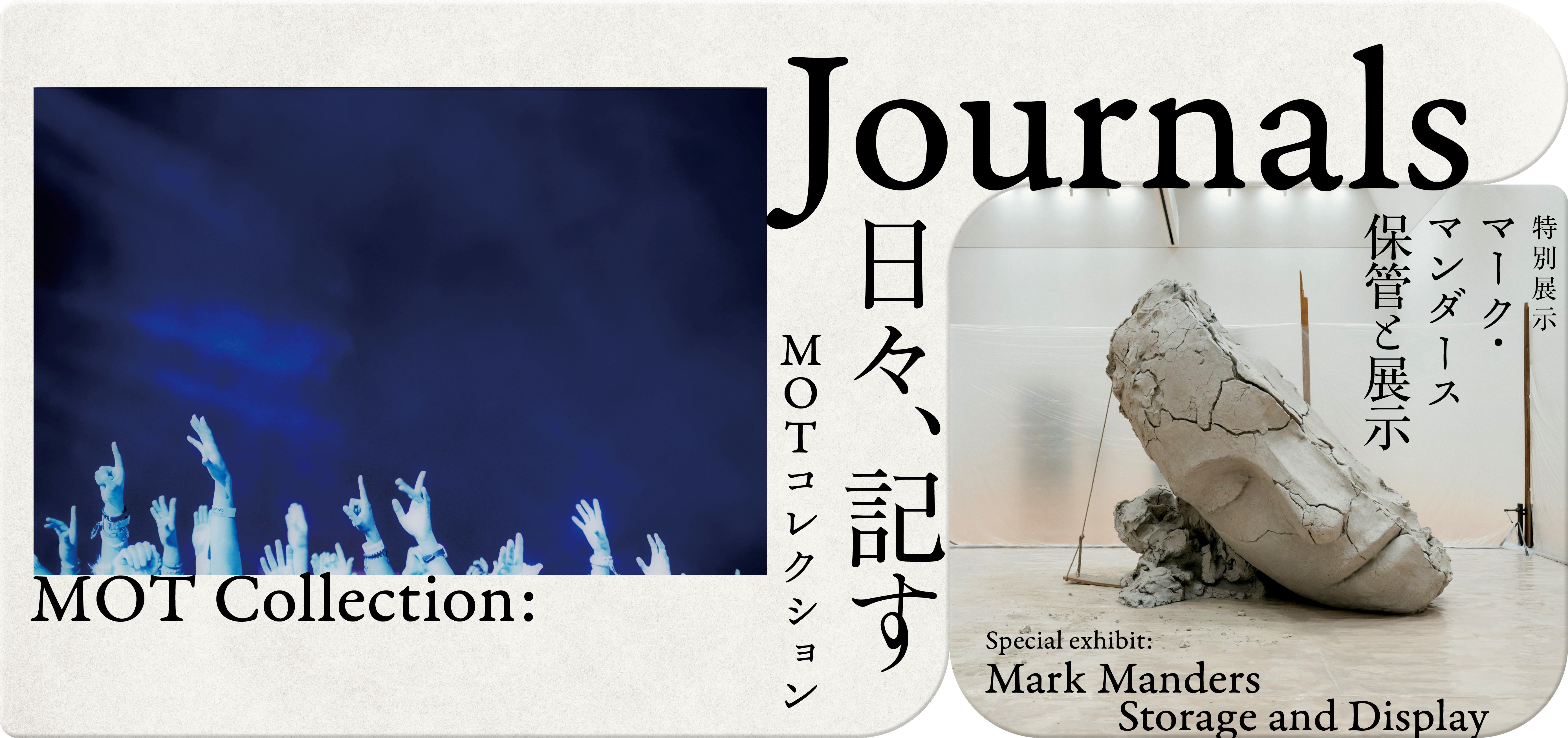 MOT Collection:
Journals
Special exhibit: Mark Manders, Storage and Display
Outline
The Museum of Contemporary Art Tokyo houses approximately 5,500 artworks in its extensive collection with a focus on art of the postwar years. Each installment of the "MOT Collection" exhibition serves to introduce artworks in the collection from various themes and angles.

List of Works
Highlights

On the first floor, under the title, "Journals," artworks created daily against the backdrop of the Covid-19 pandemic and disastrous events that have transformed our lives, the Olympics held upon a global scale, and the ordinary day-to-day, are presented in the form of an anthology comprising a wide variety of artists. Highlights of the exhibition include Chim↑Pom's May, 2020, Tokyo (Okubo Station), as well as new print works "Quarantine Series" and Zeus: the God of Olympia by Oscar OIWA (all on special exhibit). Such are featured on this occasion along with a selection of around 70 works by artists such as NINAGAWA Mika, TAKEUCHI Kota, MIYAKE Saori, and KAWARA On, all serving to illuminate the society and daily life in which we live.
Presented on the third floor is the special exhibit "Storage and Display," consisting of an installation of the works of Mark MANDERS. The artist's solo exhibition "The Absence of Mark Manders" which was held until June at the museum, had been temporarily closed for over a month due to the effects of the pandemic. Therefore with the cooperation of the artist himself and owners of the work, the museum has organized "another exhibition" in which the works presented in Manders' solo exhibition are reconfigured and introduced in a new manner through the direction of the artist.
Artists
Oscar OIWA, KAWARA On, SHIMABUKU, TAKEUCHI Kota, Chim↑Pom, TERUYA Yuken, NINAGAWA Mika, HIRATA Minoru, HOMMA Takashi, MIYAKE Saori, Finger Pointing Worker and Mark MANDERS
Information
Exhibition Period

July 17 (Sat) – October 17 (Sun), 2021

Closed

Mondays (except July 26, August 2, 9, 30, September 20), August 10, September 21

Opening Hours

10:00 - 18:00 (Tickets available until 30 minutes before closing.)

Admission

Adults – 500yen University & College Students – 400yen High School Students, Over 65 – 250yen Free for under Junior High School Students & Temporary Exhibition tickets holders

* Tickets for the "GENKYO YOKOO TADANORI", "MOT Annual 2021 A sea, a living room and a skull" and the Combined Tickets also include admission to the "MOT Collection" exhibition.
* Children younger than elementary school age need to be accompanied by a guardian.
* Persons with a Physical Disability Certificate, Intellectual Disability Certificate, Intellectual Disability Welfare Certificate, or Atomic Bomb Survivor Welfare Certificate as well as up to two attendants are admitted free of charge.

Venue

Museum of Contemporary Art Tokyo, Collection Gallery 1F / 3F

Organized by

Tokyo Metropolitan Government, Museum of Contemporary Art Tokyo operated by Tokyo Metropolitan Foundation for History and Culture
* All programs are subject to change.