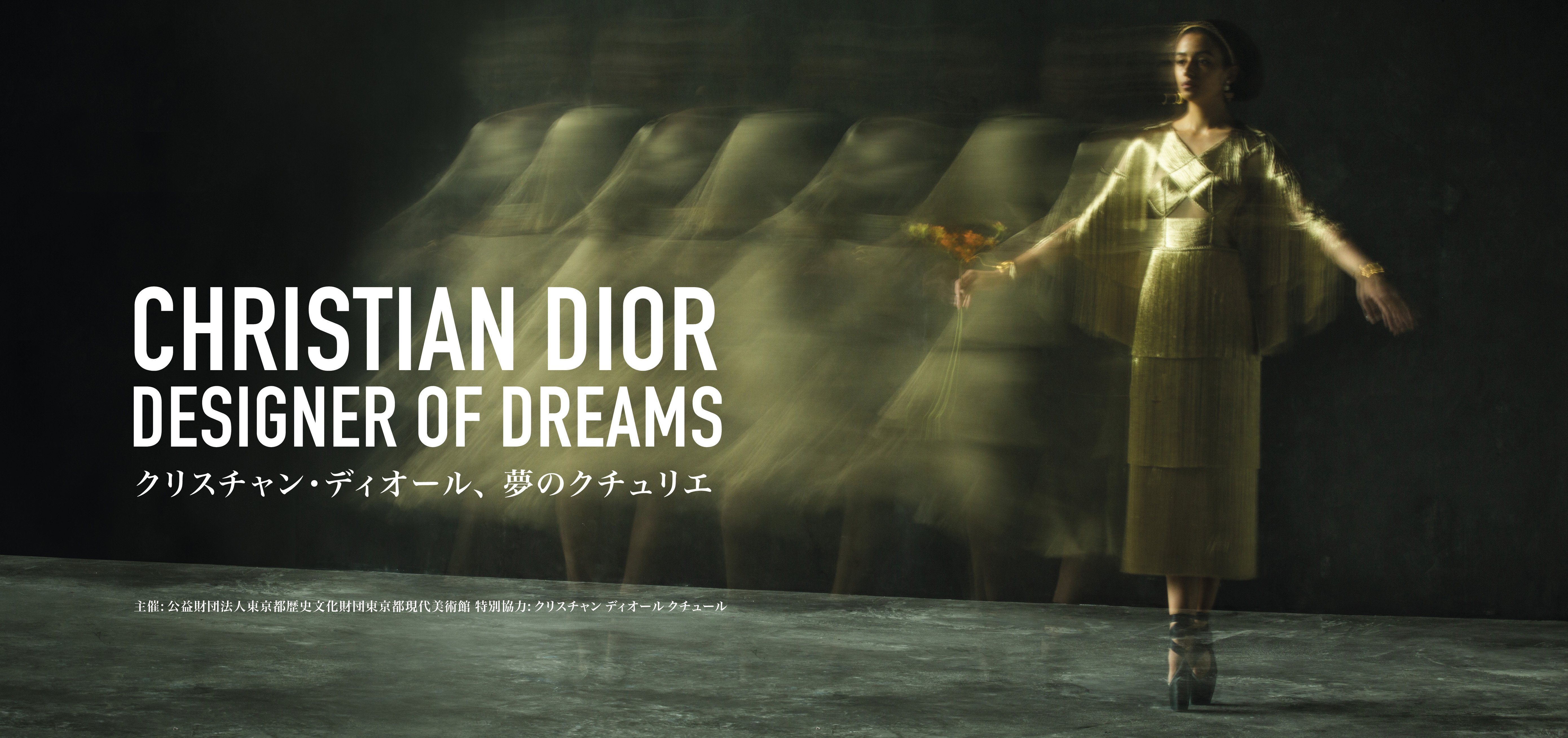 Christian Dior: Designer of Dreams
Following its success at the Musée des Arts Décoratifs in Paris, and after having traveled the world from London to New York(*1), the exhibition Christian Dior: Designer of Dreams will be presented at the Museum of Contemporary Art Tokyo, starting December 21, 2022; an exceptional event that celebrates the sincere, singular ties between Dior and Japan.

Paced by a new scenographic narrative designed – as a tribute to Japanese culture – by architect Shohei Shigematsu(*2), Partner of OMA, this retrospective, which is being reinvented under the curatorship of Florence Müller, spotlights more than seventy-five years of bold passion, punctuated by wonderful discoveries: from the artistic influences of the founding couturier to his love of gardens, from the sumptuous magic of balls to his fascination with the creative richness of Japan, which inspired Dior's collections from the outset. This unwavering friendship, consolidated by unique collaborations and mutual admiration, is reflected by precious archival documents, most of which have never been shown to the public.

Unveiled one by one are accessories and haute couture models from the past to the present, dreamed up by Christian Dior – including the quintessential Bar suit, an eternal emblem of the New Look – and by the various Artistic Directors who have succeeded him: Yves Saint Laurent, Marc Bohan, Gianfranco Ferré, John Galliano, Raf Simons and Maria Grazia Chiuri. Visitors will be able to discover a selection of captivating, prestigious works from the MOT's collection, as well as pictures by Japanese photographer Yuriko Takagi(*3) specially created for this exhibition and for its poster. Perpetuating the visionary spirit of Christian Dior, innovative icons are also exhibited, such as the Lady Dior bag reinterpreted in the Dior Lady Art and Lady Dior As Seen By projects, along with the worlds of Miss Dior and J'adore perfumes, novel reflections of the history and continual inventiveness of the House.
*1 This exhibition has notably been held in different forms at the Victoria & Albert Museum in London, the Long Museum West Bund in Shanghai, the Museum of Contemporary Art in Chendgu, the Brooklyn Museum in New York and the M7 in Doha.

*2 OMA is an international partnership practicing architecture, urbanism, and cultural analysis. Shohei Shigematsu is a Partner at OMA New York, leading the firm's diverse portfolio in the Americas and Japan.

*3 The Japanese photographer has also contributed to the catalog of this new retrospective.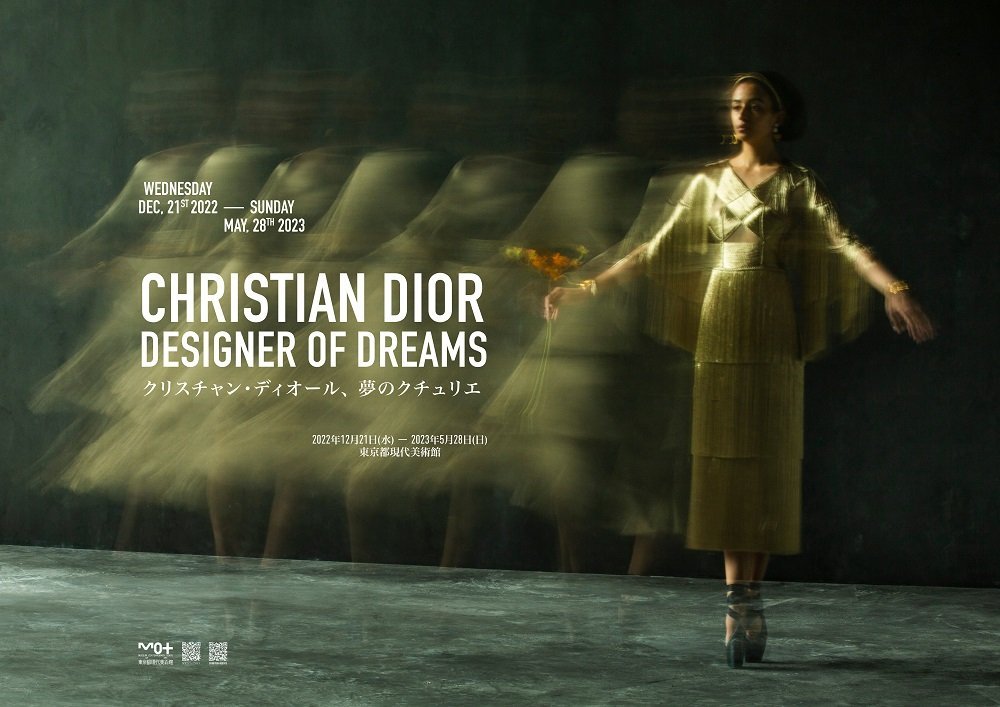 Free shuttle bus
A special shuttle bus drives between GINZA SIX and the Museum of Contemporary Art Tokyo during the exhibition period. To ride, please register LINE queuing app at the bus stop and get a numbered ticket.
For timetables and more information, please click here (PDF).

For more details, please contact 0120-02-1947 and click here for the inquiry form (DIOR).
Information
Exhibition Period

Wednesday, 21 December, 2022 - Sunday, 28 May, 2023

Closed

Mondays (except 2 Jan., 9 Jan.), 28 Dec.-1 Jan., 10 Jan.

Opening Hours

10:00-18:00 (Tickets available until 30 minutes before closing.)
※Late-night Openings in May:13 (Sat), 14 (Sun), 20 (Sat), 21 (Sun), 27 (Sat), 28 (Sun)

Venue

Museum of Contemporary Art Tokyo, Exhibition Gallery 1F / B2F

Admission

Adults – 2,000 yen / University & College Students, Over 65 – 1,300 yen / High School Students & Younger – Free
*Ticket includes admission to the MOT Collection exhibition.
*Children younger than elementary school age need to be accompanied by a guardian.
*Persons with a Physical Disability Certificate, Intellectual Disability Certificate, Intellectual Disability Welfare Certificate, or Atomic Bomb Survivor Welfare Certificate as well as up to two attendants are admitted free of charge.
*For free admission, discount eligibility, and other information, please click here.

*By courtesy of Christian Dior Couture, this exhibition is free of charge for high school students and younger. Please show proof of age at the museum ticket counter to receive an admission ticket. The ticket counter is particularly busy between 10 to 11 AM and 2 to 3 PM, and there would be a wait to receive the ticket. To help ease the congestion, we cordially ask you to avoid visiting during busy times and to visit in small groups.

【Same-day tickets】
Same-day tickets are available at the museum ticket counter for each time slot but only in limited numbers. Please note that tickets are selling out early in the day due to popular demand. Please check the museum's official Twitter or up-to-date ticket availability for the latest information.

【Reserved Priority Tickets】
We recommend the advance purchase of Reserved Priority Tickets (Dated and Timed), but reservations are currently very limited due to popular demand.
Tickets may go for resale due to cancellation. For the latest ticket availability, please click below.

Organized by

Museum of Contemporary Art Tokyo operated by Tokyo Metropolitan Foundation for History and Culture

With the special cooperation of

Christian Dior Couture

*Special decorations will be installed at the entrance of the exhibition gallery from 21 February to 17 March.
*MONACO, currently exhibited in Yves Saint Laurent section in "THE DIOR LEGACY", will be changed to ZURBARAN from 21 February onwards.
*Marilyn Monroe, the three works by Andy Warhol currently exhibited in "STARS IN DIOR AND J'ADORE", will be changed to another three works with the same title from 7 March onwards.
The exhibition limited product line up & Exhibition Catalogue
We will sell the official exhibition catalogue and limited exhibition items in the museum shop NADiff contemporary.

Poster / Postcard / Postcard box / Pencil / 12 colored pencil / Mini-poster / Notebook soft cover / Notebook hard cover / Tote bag / Fan(Scheduled to be released in mid-February)
Exhibition Catalogue
『Christian Dior: Designer of Dreams』
Publisher: Cassi Edition
Language: Japanese (with a separate English-language version in a leaflet inserted)
Size: 200 x 260 mm
Pages: 326
Hard cover, with cloth, bound-pocket binding
Price: 6,930 Japanese yen (tax included)
These items are available on the online shop "NADiff online" at the same time.
Please visit the online shop to see more information.
NADiff online

Some items could not be available on online shop.
Please note that there is a possibility that some items could be out of stock.
Each item has the limitation to the quantity of purchase.
We are afraid that we could not tell the number of stock, the arrival date of items and other questions about stocks.
<Contact>
Museum Shop
NADiff contemporary
Opening Hours|10:00 - 18:00
Closed|On days the museum is closed
TEL|+81-3-5875-9959(Direct)