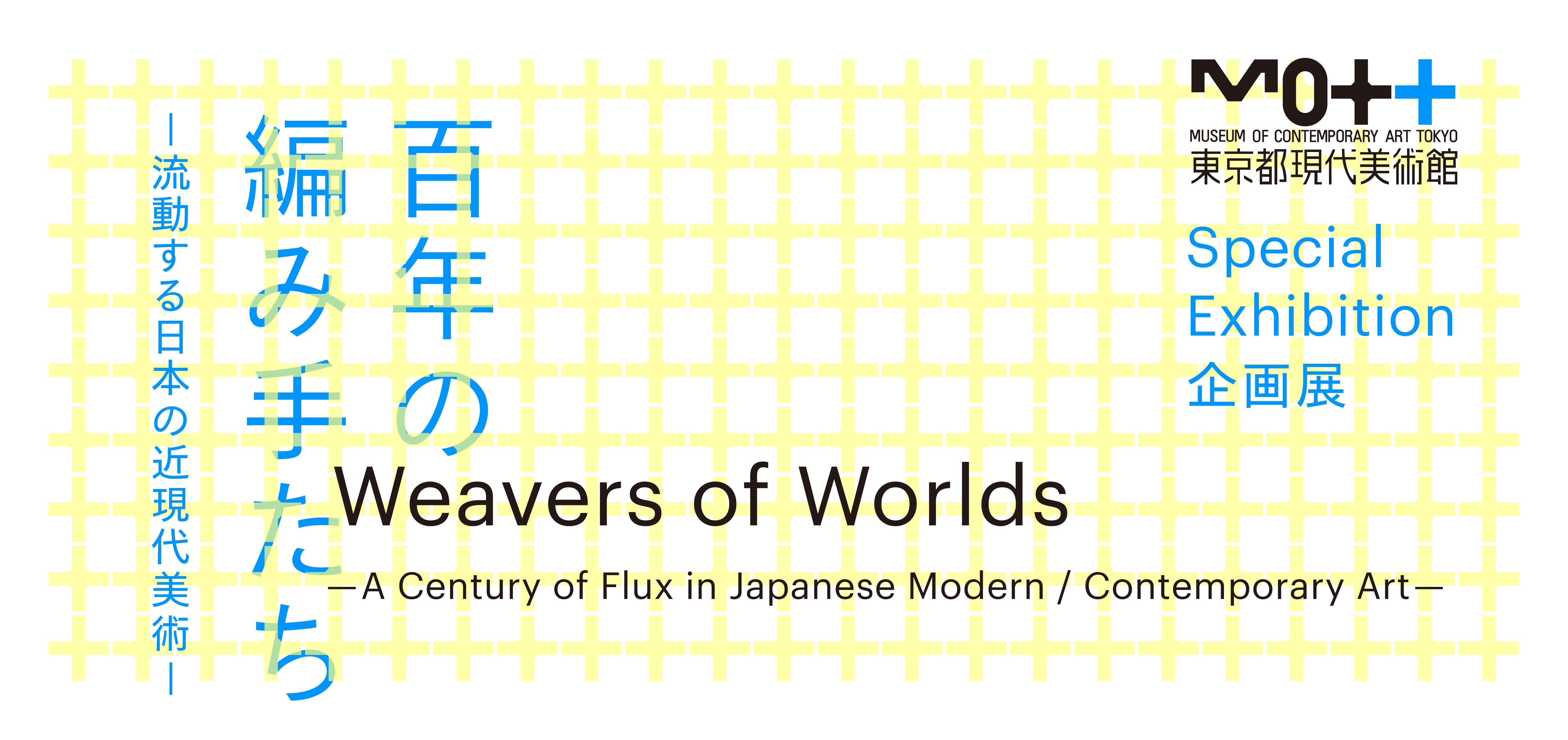 Special Exhibition:
Weavers of Worlds
- A Century of Flux in Japanese Modern / Contemporary Art -
Special Exhibition
Weavers of Worlds - A Century of Flux in Japanese Modern / Contemporary Art -
Outline
This exhibition will survey the Japanese art of the past 100 years, from the 1910s to 2010s, through works mainly in the museum's collection. Its aim to show how the artists, by taking a discerning critical perspective, have selected strands of already established and radically new styles and techniques, and woven their own distinctive worlds. From the 1920s era of KISHIDA Ryusei to the present day, artists in each generation have studied the issues specific to their time and created works that critically examine the "circumstances of Japanese art."
In its narrative on modern and contemporary Japanese art, the exhibition will not situate the artists in the context of a static view of history; instead it will look at the particular practice of the artist who, by selectively adopting elements, was able to arouse his subject. It will furthermore display artworks whose subject matter relates to the Kiba district where the museum is located, a community that has witnessed dramatic change these 100 years. By surveying the artistically important works that punctuate Japanese modern / contemporary art history, in galleries on all three of the museum's floors, the exhibition will profile the history of one hundred years.
Highlights
For the first time, the entire special exhibition galleries on three floors will be devoted to displaying the powerfully experimental works of this museum, dating from 1910 to the present, from the perspective of their connection with the art of today.

Japanese modern / contemporary art will be examined from the perspective of artists who selected among diverse art styles and techniques, old and new, to form a creative, critical relationship with society. From this, the path-breaking character of their artistic endeavor, taking as its subject their own predicament of creating art in Japan--a nation with a hybrid culture--will grow clear.

Besides selected artworks, valuable archive materials from the pre-war era will also be presented from the museum's collection, which has evolved with changing landscape of contemporary art. They will include magazines of the Sosaku-hanga ("creative prints") art movement and special collections from the Art Library.
Artists (tentative)


Ay-O, AIDA Makoto, Ai-Mitsu, AKIYAMA Yutokutaishi, ASAKURA Setsu, ABE Nobuya, ARISHIMA Ikuma, IKEDA Tatsuo, ISHII Hakutei, ISHIDA Takashi, IZUMI Taro, ISOBE Yukihisa, ITO Zon, UMEZAWA Kazuki, UMETSU Yoichi, UMEHARA Ryuzaburo, URUSHIBARA Hideko, Ei-Q, OIWA Oscar, OHTAKE Shinro, OHNO Hidetaka, OKAZAKI Kenjiro, OKAMOTO Taro, OGURA Yuki, OZAWA Tsuyoshi, OCHIAI Tamu, ONO Yoko, ONOSATO Toshinobu, ONCHI Koshiro, KAZAMA Sachiko, KASHIHARA Etsutomu, KATSURA Yuki, KATO Izumi, KATO Taro, KANAYAMA Akira, KANEUJI Teppei, KANOKOGI Takeshiro, KAWAMATA Tadashi, KAWARA On, KANBARA Tai, KISHIDA Ryusei, KITAGAWA Tamiji, KITADAI Shozo, KIMURA Shohachi, KUDO Tetsumi, KUNIYOSHI Yasuo, KOIZUMI Meiro, KONO Michisei, KOBAYASHI Masato, KOMAI Tetsuro, SAITO Yoshishige, SAITO Yori, SHINOHARA Ushio, SHIMIZU Toshi, SHIRAGA Kazuo, SHIRAKAWA Yoshio, SUENAGA Fuminao, SUGA Kishio, SUGITO Hiroshi, SUGIMATA Tadashi, SUGIMOTO Hiroshi, SUMIYA Iwane, SUWA Naoki, SEIMIYA Hitoshi, TAKAYANAGI Eri, TADA Minami, TATSUNO Toeko, TANAKA Atsuko, TANAKA Koki, TANAKA Chizuko, CHIBA Masaya, TSUBAKI Sadao, TSURUOKA Masao, TEZUKA Aiko, TERADA Masaaki, TERUYA Yuken, TOGO Seiji, DOMOTO Hisao, TOMII Motohiro, TOYOSHIMA Yasuko, NAKAZAWA Hiromitsu, NAKANISHI Natsuyuki, NAKANO Jun, NAKAHASHI Katsushige, NAKAHARA Minoru, NAKAMURA Kazumi, NAKAMURA Hiroshi, NARA Yoshitomo, NAWA Kohei, NODA Tetsuya, HAMADA Chimei, FUKAZAWA Sakuichi, FUKUZAWA Ichiro, FUKUSHIMA Hideko, FUKUDA Miran, FUJITA Tsuguharu, FUJIMAKI Yoshio, FUNAKOSHI Katsura, HOMMA Takashi, MAEDA Toshiro, MAKINO Torao, MATSUE Taiji, MATSUMOTO Shunsuke, MARUYAMA Naofumi, MIKI Tomio, MISHIMA Kimiyo, MINAMIKAWA Shimon, MURAKAMI Takashi, MURAYAMA Tomoyoshi, MOHRI Yuko, MOTONAGA Sadamasa, MORI Chihiro, MORIMURA Yasumasa, YAGI Lyota, YANAGI Yukinori, YANASE Masamu, YANOBE Kenji, YABE Tomoe, YAMAGUCHI Katsuhiro, Finger Pointing Worker, YOKOO Tadanori, YOKOBORI Kakujiro, YOSHIDA Hiroshi, YOSHIHARA Jiro, Chim↑Pom, O JUN and more