Sayoko Yamaguchi
The Wearist, Clothed in the Future
Exhibition
Having swept the international fashion world as a top model, embodying the mysterious beauty of the East, Sayoko YAMAGUCHI went on to use the theme of 'wearing' to become a creator and performance artist whose work spanned a variety of different genres. In her latter years she worked in collaboration with numerous younger artists, remaining at the forefront of the art world to the end and the trajectory of her career will be brought back to life in this exhibition that will open in the spring of 2015.
Sayoko YAMAGUCHI first burst onto the scene in the early 1970s, dominating the fashion world as Asia's first top model, while simultaneously presenting Japanese women with a new form of a feminine beauty. In the last few years of her life, she worked with the younger generation on experimental works combining fashion, music, film, theatre, recitation, performance, dance, etc., and many of these works have yet to receive their due exposure. This exhibition will look back over her life in order to communicate this meme (cultural gene) of always setting the trends for the new era, to the future. Tracing her career in this way will allow people to grasp an extremely important aspect of Japanese culture from the 1970s onwards, one that possessed an international perspective while taking a unique form.
The exhibition will incorporate two approaches. One uses archive material to trace the career of Sayoko YAMAGUCHI, who can be said to have established a new genre known as 'SAYOKO', through the combination of opposing factors such as generation or genre, East and West, mainstream and underground etc. The other presents a new installation dedicated to Sayoko created by innovative, contemporary artists who used to work in collaboration with Sayoko and who have a huge influence on the current scene, such as Naohiro UKAWA, Fuyuki YAMAKAWA, Yasunori IKUNISHI, Yasunori KAKEGAWA, exonemo and Yasumasa Morimura. She used to remake and wear the clothes in her collection, referring to herself as a 'wearist' and this exhibition will include examples of these in order to introduce every aspect of her unique aesthetics. We hope that you will come and experience her never-ending story in a space that is filled with her voice, image and presence.
Exhibition Highlights
1. We will present rare items, including magazines, photographs, scrapbooks, dolls, etc. from the archives of Shiseido Co. Ltd., where she worked as an exclusive model, in order to trace the way in which the SAYOKO image was established.
2. The works of a number of designers who regarded Sayoko as their muse and the clothes from her own collection will be presented on 'Sayoko' mannequins to explore the creativity that allowed her to raise the act of 'wearing' into a performance art and to refer to herself as a 'wearist'.
3. From fashion photographs to art works, we will introduce Sayoko's appeal as a photographic subject.
4. From Shuji TERAYAMA to the twenty-first century underground culture, we will show how Sayoko always remained at the forefront of the times through collaborations as both performer and creator.
5. High definition video works will show how, in the last few years of her life, she created a comprehensive art form through her performances, which combined sound, video, fashion, and literature.
6. A new video work by leading creators who worked with her in her latter years, using Sayoko as its motif (featuring Norimizu AMEYA), installations, etc., will be used to produce a space that is filled with Sayoko's presence, her image and her voice.
Organized by
Tokyo Metropolitan Foundation for History and Culture, Museum of Contemporary Art Tokyo
THE YOMIURI SHIMBUN, The Japan Association of Art Museums
Special Supported by
Shiseido Co., Ltd.
Supported by
Lion Corporation / SHIMIZU CORPORATION / Dai Nippon Printing Co., Ltd. / Sompo Japan Nipponkoa Insurance Inc. / Nippon Television Network Corporation
In cooperation with
Office Mighty / Kobe Fashion Museum / NANASAI Co., Ltd./ Tama Art University Department of Moving Images and Performing Arts / Prism Co.,Ltd. / edithgrove / WHITELIGHT.Ltd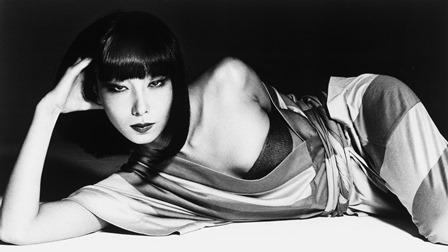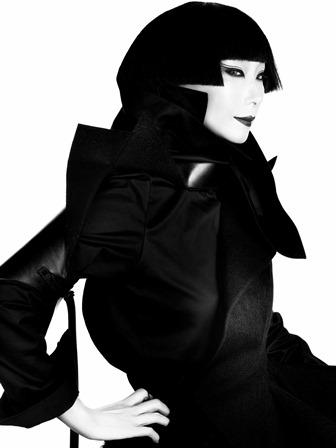 Ever since she participated as a model in the Paris fashion week in 1972, her overpowering presence guaranteed that she soon became a top model, appearing regularly in the Paris and New York collections. In 1973 she became the exclusive model for Shiseido cosmetics, creating an image of Japanese woman's beauty both at home and abroad. In 1977 Newsweek magazine named her one of the top six models in the world and 'SAYOKO' mannequins appeared in shop windows around the globe. In the same year she appeared in the play, 'Chugoku no fushigi na yakunin' [Miraculous Mandarin] by Shuji TERAYAMA, subsequently performing as an actress in numerous plays and movies. From 1988 to 1996, she participated in Saburo Teshigawara's dance company, KARAS. In 1989 she won an International Emmy Award in the performing arts category for her role in the NHK fantasy drama, 'Carmen'. After this she designed the costumes for an opera produced by the Sankai Juku butoh dance troupe, collaborated on the design of puppets for the Youkiza marionette theatre troupe, etc., participating as a creator on numerous stage performances. In 2001 designers from around the world participated in the 'Mohri Color and Space Part 5 [Sayoko]' exhibition at the Kobe Fashion Art Gallery, presenting works inspired by her. Entering the 2000s, she produced performances that merged fashion, video, music, literature, dance, etc., at underground venues such as SuperDeluxe in the Roppongi district of Tokyo. She also worked in collaboration with Yasunori IKUNISHI, Yasunori KAKEGAWA, Fuyuki YAMAKAWA, Naohiro UKAWA, Mai FUJINOYA and A.K.I. Productions. She died suddenly in 2007, shortly before she started work directing her first movie.
exonemo
An art unit consisting of Kensuke SEMBO and Yae AKAIWA. Ever since the internet first began to become popular during the 1990s, they have used it as their medium to create works highlighting the borderline that exists between virtual and real, remaining at the forefront of the media art field to this day. In 2006 they won the Grand Prize at Ars Electronica Festival. Sayoko YAMAGUCHI was quick to discover their work and introduced it through magazines etc
Naohiro UKAWA
Video artist, VJ, graphic designer, university professor...holding many different titles, this contemporary artist produces works that freely transverse the region between mass culture and art. Ever since it was established in 2010, his live-streaming studio and program, 'DOMMUNE', has attracted a remarkable number of viewers and had a tremendous influence on various circles. He formed the music unit, 'SUNZU' together with Sayoko YAMAGUCHI and Mai FUJINOYA.
Yasunori IKUNISHI + Yasunori KAKEGAWA
A unit consisting of director, Yasunori IKUNISHI, and video artist Yasunori KAKEGAWA, which carried out numerous collaborations with Sayoko YAMAGUCHI from 2003 until shortly before her death. Their works include, 'Roppongi Crossing - New Visions in Contemporary Japanese Art 2004' (Mori Art Museum), 'weaving imagination #01' (Kawasaki City Museum), etc.
Fuyuki YAMAKAWA
An artist who uses sound as a medium through which to experiment in the enlargement of the physical regions, while being active in a variety of fields including art, music, stage performance, etc. He is also well known as a master of Tuvan throat singing, khomei. His representative work, 'The Voice-Over' is in the collection of the Museum of Contemporary Art Tokyo. Sayoko YAMAGUCHI carried out performances with him, including 'A - O - I' (Parabolica-bis, 2006).
Yasumasa MORIMURA
His work has been consistently revolving around the concept of "artworks in the form of self-portraits" from 1985 up to this day. MORIMURA was featured in "Imaginary Museum - myself as a painting" (1998 at the Museum of Contemporary Art Tokyo, etc.) and numerous other solo and group exhibitions in Japan and abroad. His broad-ranged activities further include functioning as artistic director at the Yokohama Triennale 2014.
Be Sayoko! Programs
(1) Make up workshop and a talk event by the makeup artist, Ei Tomikawa.

Lecture by|Ei Tomikawa (Director of SABFA, SHISEIDO)
Date+Time|May.16 (sat) 14:00-16:00
Venue|Museum of Contemporary Art Tokyo, B2F Auditorium
Capacity|100 people (numbered ticket system,first-come basis) 
*Numbered tickets will be issued at the museum's entrance hall from 11:00 on May.16
Fee|Free  *"Sayoko Yamaguchi" exhibition ticket is needed to gain entry to this event


(2) Dance workshop according to Sayoko's dance method- Michio Itō's "ten gestures"
*Prior dance experience is not necessary.

Lecture by|Kumiko Kashiwagi
Date+Time|May.31 (sun) 14:00-15:30
Venue|Museum of Contemporary Art Tokyo, B2F Auditorium
Capacity|20 people (numbered ticket system,first-come basis) 
*Numbered tickets will be issued at the museum's entrance hall from 11:00 on May.31
Fee|Free  *"Sayoko Yamaguchi" exhibition ticket is needed to gain entry to this event


Exhibition Information

Period

April 11(Sat) - June 28(Sun) , 2015
Closed on

Mondays (except 5.4),5.7
Venue

Museum of Contemporary Art Tokyo (MOT) Exhibition Gallery
Opening Hours

10:00-18:00
*Last admission to the gallery floor & last ticket purchase is 30minutes before the closing hour.
Admission

Adults: 1,200yen/ University Students, Over 65: 900yen/ High School & Junior High Students: 600yen/ Elementary School & Under: Free
*Free entry to MOT collection ticket holders
アクセス
From Kiyosumi-Shirakawa Station on the Hanzomon Line: 9min. walk from the B2 exit.
From Kiyosumi-Shirakawa Station on the Toei Oedo Line: 13min. walk from the A3 exit.
More Info
Inquiry

+81-3-5245-4111(General Information)
+81-3-5405-8686(Hello Dial)
Also Showing


「Time of others」
April 11(sat) - June 28(sun) , 2015
「Gabriel Orozco-Inner Cycles」
Jan 24 (sat)- May 10(sun) 2015

「Twentieth Anniversary Special MOT Collection
Collection Becoming」
Jan 24 (sat)- June 28 (sun) 2015
「TOKYO WONDER WALL 2015」
Jan 6 (sat)-June 28 (sun) 2015