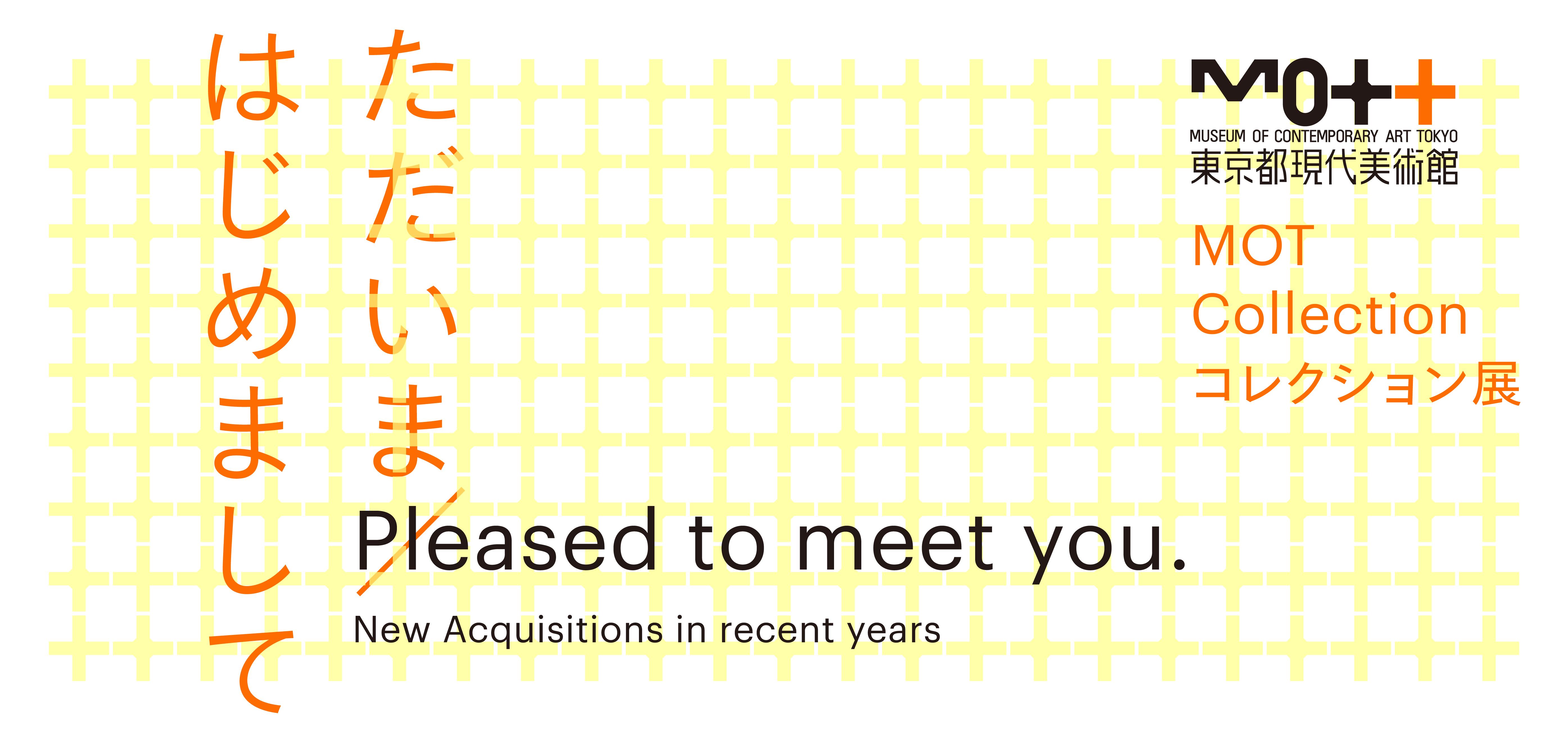 MOT Collection Part 2:
Pleased to meet you.
New Acquisitions in recent years
Outline
The Museum of Contemporary Art Tokyo houses approximately 5,400 artworks in its extensive collection, which spans the modern and contemporary periods with a focus on art of the postwar years. In an aim to communicate the diverse appeal of contemporary art, each installment of the "MOT Collection" exhibition serves to introduce artworks in the collection from various themes and angles in order to offer visitors with an opportunity to engage with even the same works from various perspectives. In its first period, the "MOT Collection: Pleased to meet you. New Acquisitions in recent years" had presented works produced primarily in the 2010s, selected from among the 400 pieces acquired during the museum's closure. On this occasion, the second period of the exhibition will alter a section of its contents to newly showcase the works of three additional artists.
MOT CollectionⅡ List of Works.pdf
Artists
IMAI Shunsuke, OGINO Ryosuke, OKUMURA Yuki, KOBAYASHI Masato, SAKAGISHI Yoshiou, SUENAGA Fuminao, SUZUKI Akio, SOUTOME Teppei, TAKADA Akiko & Masako, TANADA Koji, NAKAZONO Koji, BUNYA Yukari, MATSUMOTO Yoko, MINAMIKAWA Shimon, MIYAJIMA Tatsuo, MOHRI Yuko, YASUDA Haruhiko, Simon FUJIWARA, Saleh HUSEIN, JUNG Yeondoo, Roy LICHTENSTEIN, Mark MANDERS, Sopheap PICH, Arnaldo POMODORO
*Please note that Masato Kobayashi's Flash #13, shown on the back of the exhibition flyer, is not on view.

Open Air Gallery:
ONO Yoko, SUZUKI Akio, TAKADA Akiko & Masako, Anthony CARO, Richard DEACON, Marta PAN
Information
Dates

Sat. 20 July - Sun. 20 October, 2019

Closed

Mondays(12 August, 16 & 23 September, 14 October will be open) and 13 August, 17 & 24 September, 15 October

Opening Hours

10:00-18:00
Summer Night Museum; On Fridays in July & August (26 July, 2, 9, 16, 23, 30 August) we will be open until 21:00.

Admission

Adults 500 yen(400 yen) / University & College Students 400 yen(320 yen) / High School Students & Over65 250 yen(200 yen) / Under Junior High School Students & Temporary Exhibition tickets holders: Free
*( ) Price for a group of over 20 people

Summer Night Museum discount price(Students: Free / Adults 400 yen / Over65 200 yen)

Venues

Museum of Contemporary Art Tokyo, Collection Gallery 1F / 3F, Open Air Gallery

Organized by

Tokyo Metropolitan Government, Tokyo Metropolitan Foundation for History and Culture, Museum of Contemporary Art Tokyo