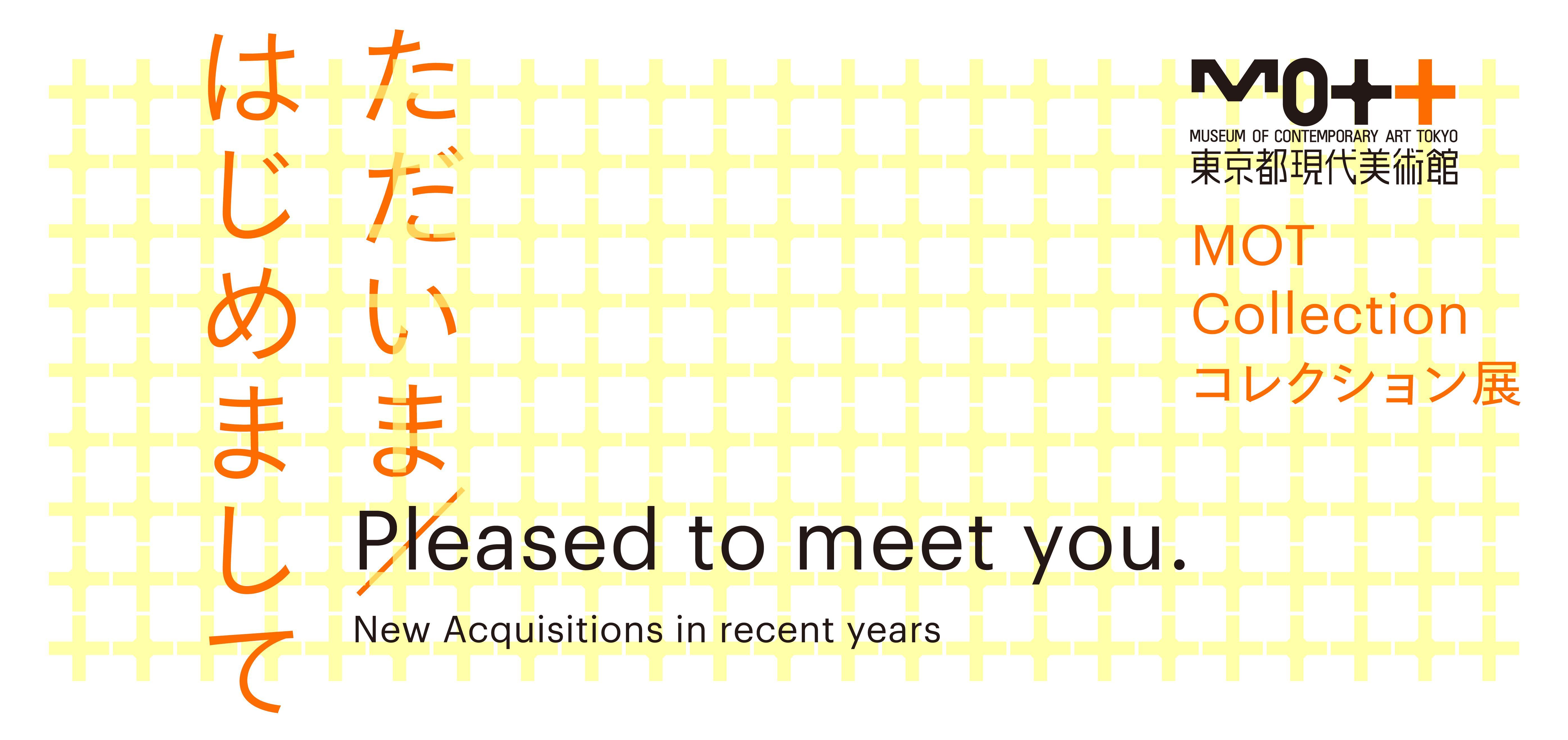 MOT Collection:
Pleased to meet you.
New Acquisitions in recent years
Outline
Currently, Museum of Contemporary Art Tokyo holds some 5,400 pieces in its collection, which spans the modern and contemporary periods with a focus on art of the postwar years. MOT regularly features the works in "MOT Collection" exhibitions, choosing a different theme each term to show the diverse appeal of contemporary art, and contriving to enable viewing the same artwork from different perspectives.
Having newly acquired some 400 works during its three-year closure, the museum will focus on these new acquisitions in its "MOT Collection" exhibitions this fiscal year, to mark its Grand Reopening. In term one, the exhibition will spotlight works produced in the 2010s and also unveil earlier collected works that have undergone restoration. In MOT's newly renovated galleries, thus, people familiar with MOT's collection and those viewing it for the first time will be able to enjoy fresh encounters with each of the works.
Highlights
Many "Pleased to Meet You" Artworks
Collecting artworks in real time, as they are created, is fundamental to MOT as a contemporary art museum. Featured this time are works produced primarily in the 2010s, selected from among pieces newly acquired during the museum's closure. Created by some 20 artists, the works will be displayed in a solo exhibition-type format. Visitors will enjoy seeing new works of the past decade by artists of different regions and generations.
And Nostalgic "Nice to See You Again" Artworks and Spaces
Displayed this time, along with newly restored works by MIYAJIMA Tatsuo, will be works already familiar to visitors, including Roy LICHTENSTEIN's Girl with Hair Ribbon and Arnaldo POMODORO's Gyroscope of the Sun. Together with new acquisitions, many nostalgic works also await you in the museum's relaxed, open spaces. Enjoy seeing them at your own pace.
Outdoor Sculptures—Both "Please to meet yous" and "Nice to see you agains"
Outdoor sculptures by artists such as Anthony CARO and Richard DEACON are back in place after thorough restoration. Newly joining them are outdoor sculptures by ONO Yoko, SUZUKI Akio, and TAKADA Akiko & Masako. Encounter both new and already familiar facets of the collection while touring the entire museum building—including the redesigned courtyard.
Artists
IMAI Shunsuke, OGINO Ryosuke, OKUMURA Yuki, ONO Yoko, SAKAGISHI Yoshiou, SUENAGA Fuminao, SUZUKI Akio, SEKINE Naoko, SOUTOME Teppei, TAKADA Akiko & Masako, TANADA Koji, TEZUKA Aiko, TERAUCHI Yoko, NAKAZONO Koji, Nadegata Instant Party (NAKAZAKI Tohru+YAMASHIRO Daisuke+NODA Tomoko), BUNYA Yukari, MINAMIKAWA Shimon, MIYAJIMA Tatsuo, YASUDA Haruhiko, Anthony CARO, Richard DEACON, Simon FUJIWARA, Saleh HUSEIN, JUNG Yeondoo, Roy LICHTENSTEIN, Mark MANDERS, Marta PAN, Sopheap PICH, Arnaldo POMODORO