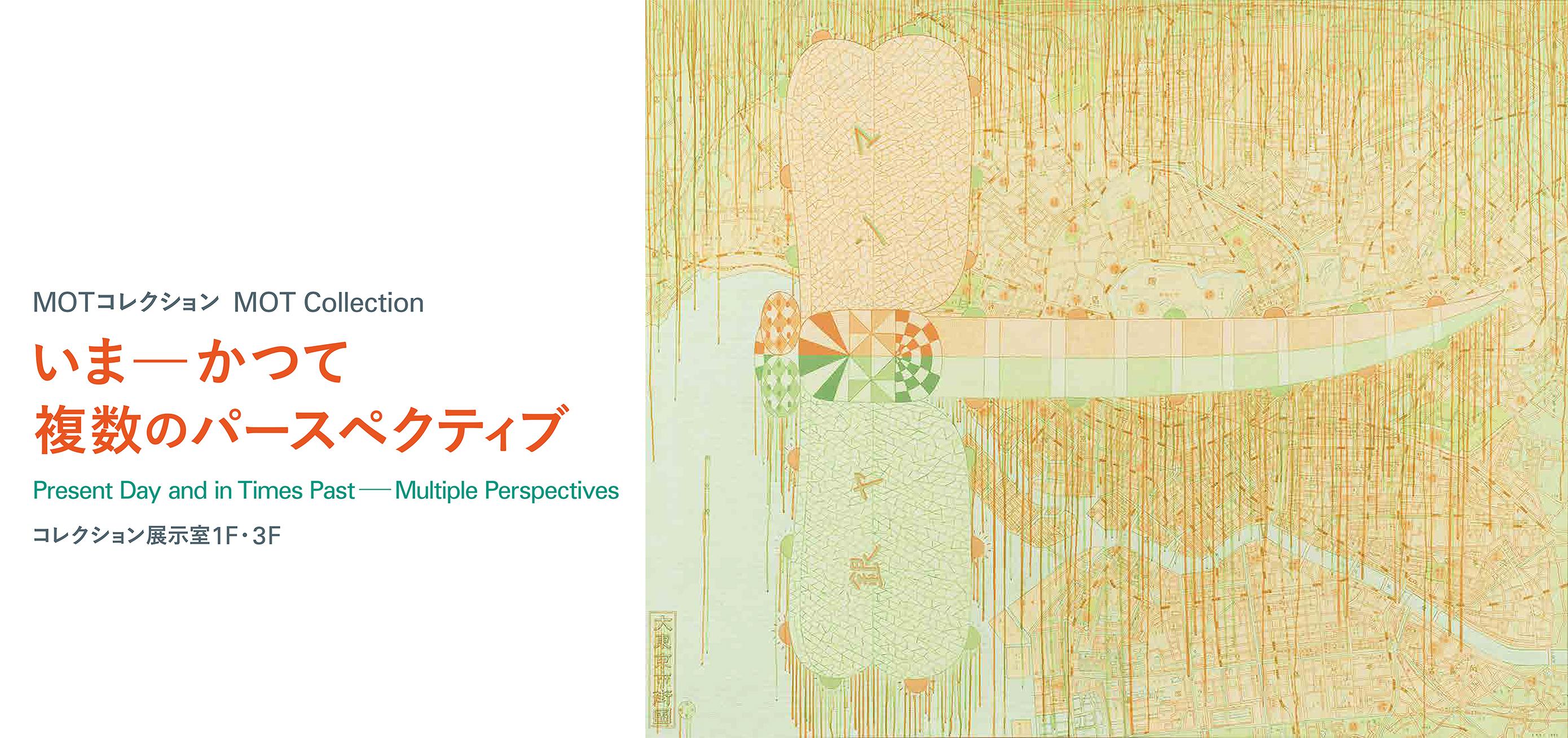 MOT Collection
Present Day and in Times Past
― Multiple Perspectives
Outline
The Museum of Contemporary Art Tokyo houses approximately 5,500 artworks in its extensive collection, which spans the modern and contemporary periods with a focus on art of the postwar years. In an aim to communicate the diverse appeal of contemporary art, each installment of the "MOT Collection" exhibition serves to introduce artworks in the collection from various themes and angles in order to offer visitors with an opportunity to engage with even the same works from various perspectives. The third installment introduces approximately 180 works spanning the 1930s until recent years, centering on donated pieces from amongst the 400 or so artworks collected during the museum's closure for renovations. The exhibition contemplates the meaning behind the collection through multiple perspectives such as past and present, museum and collector.

MOT Collection List of Works (PDF)
"o to da te" and "no zo mi" (PDF)
Artists
OKAMOTO Shinjiro, ONO Yoko, ONOSATO Toshinobu, KUSAMA Yayoi, SHINKAI Kakuo, SUEMATSU Masaki, TOYOSHIMA Yasuko, FUJITA Tsuguharu, MATSUE Taiji, mamoru, MIYAJIMA Tatsuo, MUKAI Junkichi, Brenda V. FAJARDO and more

As a preventative measure against the spreading of the novel coronavirus (COVID-19), the viewing of the work THE WAY I HEAR, B.S. LYMAN The 5th Movement Polyphony for collective imagination we be organized as follows until further notice.

1 Screening Times
Three screenings are presented per day at the following times:
11:00-12:00, 13:30-14:30, 16:00-17:00
*The work is approximately 15 minutes long, and is screened on a loop.
*The screening schedule and time is subject to change.

2 Viewing Reservations
Viewing is granted via reservation only (reservations can be made everyday, on a first-come-first-served basis, with up to five visitors for each screening. Reservations will close as soon as the capacity is reached).
*Please ask a member of staff in the exhibition room if you wish to view the work.
Information
Dates

Sat. 14 March 2 June– Sun. 14 June 27 September, 2020



Closed

Mondays (except 4 May), 7 May

Opening Hours

10:00-18:00
(Tickets available until 30 minutes before closing)

Admission

Adults – 500yen (400yen)
University & College Students – 400yen (320yen)
High School Students, Over 65 – 250yen (200yen)
Free for under Junior High School Students & Temporary Exhibition tickets holders


* Children younger than elementary school age need to be accompanied by a guardian.
* Persons with a Physical Disability Certificate, Intellectual Disability Certificate, Intellectual Disability Welfare Certificate, or Atomic Bomb Survivor Welfare Certificate as well as up to two attendants are admitted free of charge.

Services that are suspended until further notice:
* Amounts in parentheses indicate the price for a group of over 20 people.
* Persons 65 or over are admitted free of charge on the third Wednesday of every month (Senior Day). Proof of age is required.
* Tokyo resident guardians accompanying children under 18 are admitted at half-price on the third Saturday of every month as well as the following day (Family Day). Identification is required.

Venues

Museum of Contemporary Art Tokyo,
Collection Gallery 1F / 3F

Organized by

Tokyo Metropolitan Government,
Museum of Contemporary Art Tokyo operated by Tokyo Metropolitan Foundation for History and Culture