KISHIO SUGA
Situated Latency
Kishio Suga (b. 1944) graduated from Tama Art University in 1968, and was one of the leading artists of the Mono-ha (School of Things) art movement. Recently, experiments of the 1970s that drew links between conceptual thinking and matter have garnered international attention, bringing great acclaim to Mono-ha works, particularly those by Suga, together with works of the Italian art movement, Arte Povera.
Suga's installations, which take form in a space, and use stones, wood, and metal plates as materials, could be described as generating a 'landscape' that arises as a consequence of the coexistence of each piece of matter. Matter coexists in a group, and a mutual linkage (renkansei) is born from that situation. By manipulating these intellectually, and with abundant sensitivity, space and matter begin to be transformed. The activation of space resulting from the intervention of the creative act is the essence of Suga's art.
In today's virtual, networked society, the works of Suga reflect our internal desires, which yearn for contact with a world complete with physical complexity and real sensations. We do not simply relate to these works superficially; each individual interacts in entirety with the space. Focusing on the 1970s, when Suga's concepts were highly radical, this exhibition uses the artist's installations, production notebooks, and documentary footage to present perspectives that are rich with allusions regarding matter, the body, and spaces embodied in his art.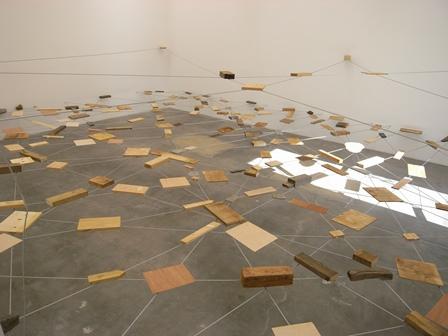 Kishio Suga, Shachi Jōkyō (Left-Behaind Situation), 1972/2013, Collection: GLENSTONE, Photo:Tsuyoshi Satoh
Highlights of the Exhibition
Installations in new spaces
Using familiar materials, such as industrial materials like wire and aluminum and mutable substances like water and wax in addition to pebbles and pieces of wood, Suga senses the unique characteristics of each exhibition space, and places each object in the space while remaining focused on essential questions about the space and about what each object is. His works, which are formed through the interdependence of unfinished things that rest or lean on each other, gain new qualities each time they are installed in a new space. This exhibition offers an opportunity to encounter and rethink the meaning of existence of things by way of the moments, and chains of moments, that Suga's installations are filled with.
Production notebooks-traces of thought
Since 1967, Suga has identified thoughts about things and space with great thoroughness, performing the act of verbalizing his thinking and writing it down on a daily basis in what he calls his production notebooks. In these notebooks, Suga has questioned the fundamental nature of art as it has been known to date, and sought out his own creativity. This exhibition brings together and puts on display these notebooks, which have equal significance to his art works. They reveal the traces of thought taken during the formulation of his original titles--titles that indicate the composition or the meaning of his works.


Activation bringing a space alive
Through an act he refers to as 'activation,' Suga continues to develop his work through 'activating' a space by rearranging things, rather than completing his works at the point where he places them at the gallery or outside his atelier. This exhibition shows numerous instances of documentary footage of Suga's activations, which began in earnest in 1974. The majority of the footage is being shown in public for the first time, and through it, the situation surrounding the art of the 1970s emerges in a different form from that seen in photographs.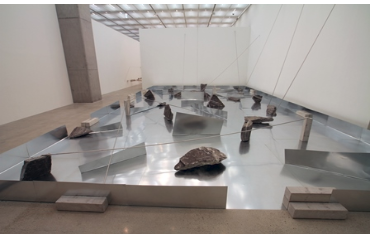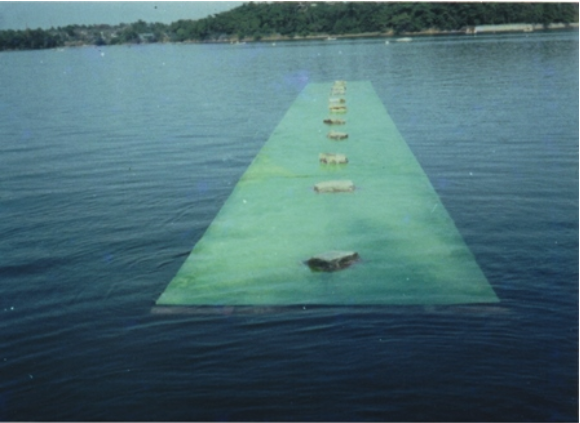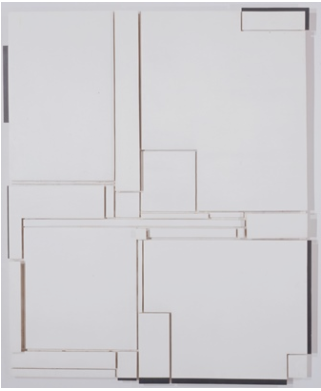 Top-Bottom
Izonsa (Separating Dependence), 1973/2013, Collection of the artist, Photo:Tsuyoshi Satoh
Heiretsusō (Parallel Strata), 1969/2012, Pinault Collection, Photo: Joshua White Courtesy of Blum & Poe, Los Angels
Jōkyoritsu (Law of Situation), 1971, Photo:Kishio Suga
Protrusion HZ-87, 1987, Deposit to Museum of Contemporary Art, Tokyo
Ikyō (Condition of Situated Units), 1975, Photo:Kishio Suga
Organized by
Tokyo Metropolitan Foundation for History and Culture, Museum of Contemporary Art Tokyo
In collaboration with
ASAHI-SHUZO SAKE BREWING CO.,LTD
KISHIO SUGA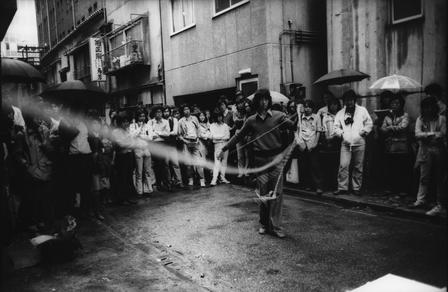 Kishio Suga, Chi'iron (Theory for Creating Sites), 1977, Photo:Shigeo Anzaï

1944 Born in Morioka, Iwate Prefecture.
1964 Enters the Painting Department of Tama Art University, and then joins the classroom of Yoshishige Saito.
1967 Wins the grand prize at the 11th Shell Art Awards Exhibition.
1968 Exhibits Fieldwork Layered Space (Sekisō Kūkan) outdoors near his atelier. Later, holds first solo exhibition Ten'i Kūkan (Space Transformation) at Tsubaki-Kindai Gallery in Tokyo, where in the 1970s, he displays numerous Fieldwork installations. Since then, continuing to the present, exhibits new work at solo exhibitions several times a year at galleries in Tokyo, Kyoto, and Morioka.
1969 Submits Ten'i Kūkan: Mirai no Noto Kara (Space Transformation: From a Note from the Future) to Bijutsu Techo magazine's art criticism contest under the pen name Sei Katsuragawa, and receives an honorable mention.
1970 Wins the 5th Japan Art Festival Grand Prix, and travels around the world.
1971 Exhibits Law of Situation (Jōkyoritsu) on the lake at the 4th Ube Biennale in Ube City.
1973 Begins activations in earnest, and starting the following year footage is documented by Video Information Center.
8e Biennale de Paris, Musée d'Art Moderne de la Ville de Paris, Musée National d'Art Moderne, Paris.
1976 The 1976 Biennale of Sydney: Recent International Forms in Art, Art Gallery of New South Wales, Sydney.
1978 The 38th Venice Biennale, Japan Pavilion, Venice.
1981 The 16th Sao Paulo Biennale, Parque Ibirapuera, Sao Paulo.
1984 Trends of Contemporary Japanese Art 1970-1984: Universality/Individuality, Tokyo, Metropolitan Art Museum, Tokyo.
1986 Japon des Avant-Gardes: 1910-1970, Centre Georges Pompidou, Paris.
1987 Art in Japan since 1969: Mono-ha and Post-Mono-ha, Seibu Museum of Art, Tokyo.
1988 Monoha: La scuola delle cose, Museo Laboratorio di Arte Contemporanea dell'Universita degli Studi di Roma "La Sapienza," Rome.
1989 The 20th Biennale Middelheim: Japan, Europalia '89, Middelheim Open-Air Museum for Sculpture, Antwerp.
1992 Avanguardie Giapponesi degli anni 70, Galleria Comunale d'Arte Moderna di Bologna, Bologna.
1995 Matter and Perception 1970: Mono-ha and the Search for Fundamentals, Museum of Fine Arts Gifu, Gifu; traveled to 3 museums in Japan.
1997 Suga Kishio, Hiroshima City Museum of Contemporary Art, Hiroshima; traveled to 3 museums in Japan.
1998 dialogue--Kishio Suga, The Yamaguchi Prefectural Museum of Art, Yamaguchi.
1999 Suga Kishio: Stance, Yokohama Museum of Art, Yokohama.
2001 Mono-ha: School of Things, Kettle's Yard, University of Cambridge, Cambridge.
2005 Uncertain Void (Yuragu Taikū): Installation by Suga Kishio, Iwate Museum of Art, Morioka.
Reconsidering Mono-ha, The National Museum of Art, Osaka.
2014 Kishio Suga: Situated Underlying Existence, Corps de Garde, Colmar.
Programs
■Talk Event_Kishio Suga × Yuko Hasegawa■ 
*Talk is given in Japanese.
Speaker | Kishio Suga and Yuko Hasegawa (Curator of the exhibition)
Date+Time|Jan.25th (Sun) 14:00‐
Venue|Museum of Contemporary Art Tokyo, Auditorium B2F
Fee|Free  *"Kishio Suga_Situated Latency" exhibition ticket is needed to gain entry to this event
Capacity|200people (first-come basis)
■Activation by Kishio Suga■
Date+Time|Mar.7th (Sat) 14:00- 
Venue|Museum of Contemporary Art Tokyo, B2F
Fee|Free *"Kishio Suga_Situated Latency" exhibition ticket is needed
■Lecture by Midori Matsui(Art Critic)_a collaborative event with Gabriel Orozco exhibition■ 
*Talk is given in Japanese.
Speaker | Midori Matsui (Art Critic)
Date+Time|Jan.31st (Sat) 15:00‐
Venue|Museum of Contemporary Art Tokyo, Auditorium B2F
Fee|Free  *"Kishio Suga_Situated Latency" or "Gabriel Orozco" exhibition ticket is needed to gain entry to this event
Capacity|200people (first-come basis)
Information
Period
Jan 24 (sat)-Mar 22 (sun) 2015
Closed on
Mondays
Venue
Museum of Contemporary Art Tokyo (MOT) Exhibition Gallery B2F
Opening Hours
10:00-18:00
*Last admission to the gallery floor & last ticket purchase is 30minutes before the closing hour.
Admission
Adults: 1,100yen/ University Students, Over 65: 800yen/ High School & Junior High Students: 600yen/ Elementary School & Under: Free
*Admission is free for visiting and participating only in the "Home Movie Factory" part of the exhibition.
*Free entry to MOT collection ticket holders

Access
From Kiyosumi-Shirakawa Station on the Hanzomon Line: 9min. walk from the B2 exit.
From Kiyosumi-Shirakawa Station on the Toei Oedo Line: 13min. walk from the A3 exit.
Inquiry
+81-3-5245-4111(General Information)
+81-3-5405-8686(Hello Dial)


Exhibiotion Catalogue
Kishio Suga: Situated Latency
Size: 260 x 210 mm / 200 pages / hard cover
ISBN 978-908062-05-6 C0070
Publisher: HeHe
Also Showing
Twentieth Anniversary Special MOT Collection
Collection Becoming
Jan 24 (sat)-May 10 (sun) 2015

Constellations:
Parctices for Unseen Connections/Discoveries
Jan 24 (sat)-Mar 22 (sun) 2015
Gabriel Orozco
Inner Cycles
Jan 24 (sat)-May 10 (sun) 2015