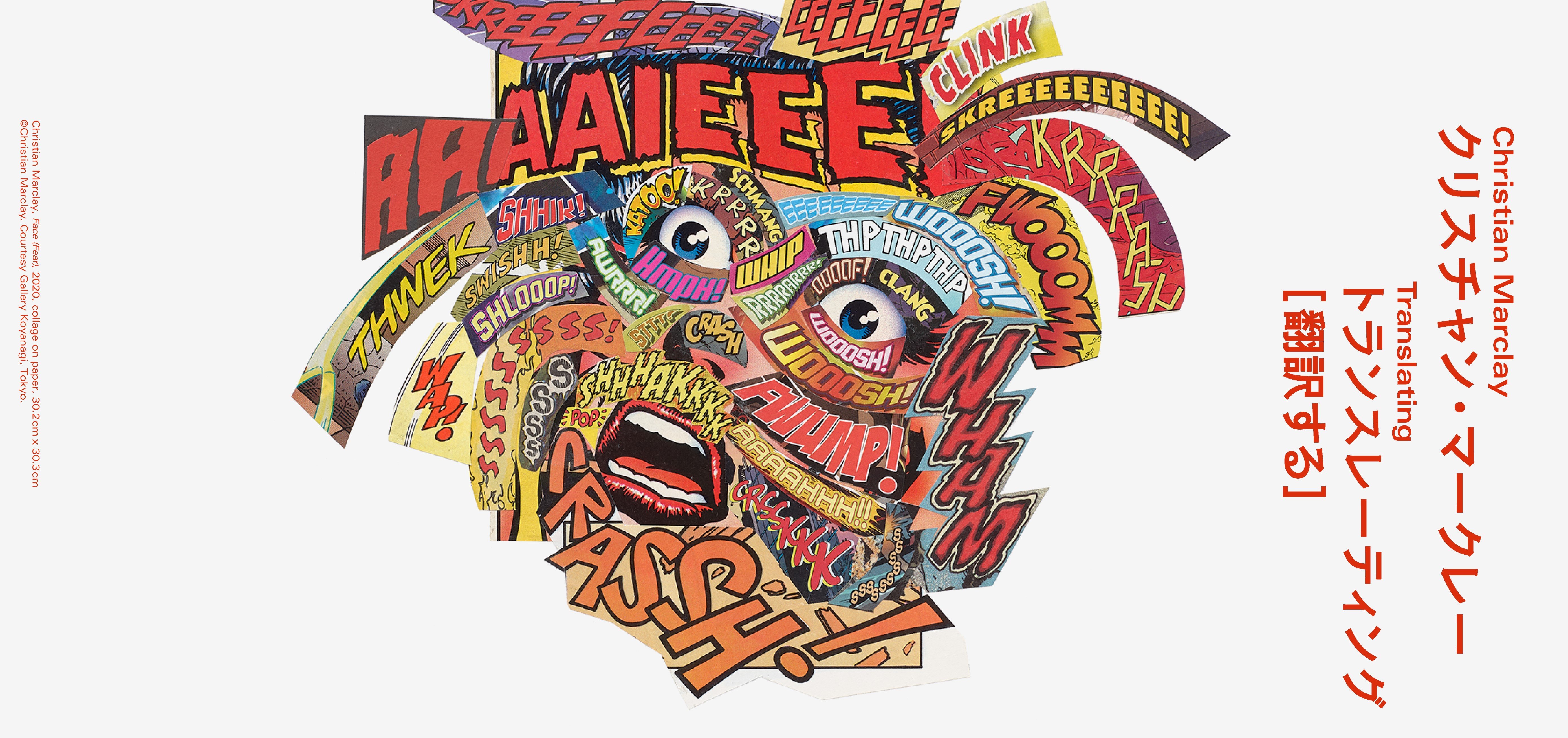 Christian Marclay Translating
It may seem like a contradiction, but I'm interested in sound not just for how it sounds, but also for how it looks.
Christian Marclay, THE WIRE, Issue 195, May 2000
The Museum of Contemporary Art Tokyo is pleased to present the first large-scale museum exhibition in Japan of the acclaimed artist Christian Marclay, whose innovative practice lies at the crossroads of art and music.

Christian Marclay (b. 1955) began experimenting with sound in performances using turntables during the late 1970s in New York, and has been an important figure in the avant-garde music scene ever since. Focusing on sound as visual information and on how music is represented, objectified and commodified in modern society, he is recognized as one of the most popular and influential artists who connect contemporary art with music. Marclay works in performance, collage, installation, photography, painting and video, often repurposing a wide range of found media including LP records, CDs, comics, movies, and photographs.

Christian Marclay Translating is the first large-scale solo exhibition of the artist's work in a Japanese museum and aims to introduce his diverse and eclectic practice to audiences. Sampling his oeuvre, it includes early works, influenced by conceptual art and punk music, large-scale installations built from samples of image and sound information, and more recent works that reflect upon the anxieties permeating our contemporary world.

Exhibition Guide
Marclay Translating
This exhibition employs the term "Translating" in reference to Marclay's unique approach that attempts to find an equivalence between the visual and auditory experience and to decipher the world by using one sense for another.

Born in California and raised in Geneva, Marclay grew up traveling between the different linguistic and cultural spheres of Switzerland and the United States, an experience that informed his decision to become an artist: "I didn't trust language that much and I was more interested in other types of communication, like visual language or music, things that rely on different signs or perceptions."*.
* Jan Estep, "Words and Music: Interview with Christian Marclay," New Art Examiner, Sept./Oct. 2001, pp. 78-83.
Marclay's technique of sampling, evident in many of his works, entails extracting and repurposing existing images and sounds, and can be considered an act of "translation" from one realm to the other, offering an alternative to language. Whether using the materiality of recorded sound to create images, as in his celebrated series of photograms, or translating image back into sound, as with the creation of "graphic scores" in which images from our day-to-day environment are given over to musicians as scores from which to create music, Marclay's practice exists at the intersection of these two cultural forms. The exhibition will also include works that feature onomatopoeia, appropriated from manga comics originally published in Japan and translated into English, such as Manga Scroll (2010) which is a vocal "graphic score". Shifting back and forth between sound and vision, everyday objects and art, information and matter, as well as different cultures, Marclay's practice explores the creative possibilities and contradictions inherent in translation. With a keen eye (and ear) and understated humor, he draws attention to the sensations and perceptions we take for granted while revealing the precariousness of human communication.
Evolving with the passage of time, Marclay's work is 'translated' by the viewer and/or the listener into a myriad of open-ended experiences. His early masterpiece Record Without a Cover (1985), for example, is an LP record without any protective packaging which allows for damage from shipping, storing, and playing the vinyl to become part of the recording.



During the exhibition, a public programme of events will feature performances of Marclay's graphic scores by Japanese musicians.

Highlights
The first major exhibition at a Japanese museum of the most significant artist working today at the intersection of art and music.
The crossover between sight and hearing is a theme that has fascinated many artists past and present. In the words of a Nineteenth Century critic: "all art aspires towards the condition of music." Christian Marclay, who initially gained recognition in the music scene, has explored the inextricable relationship between the two spheres through numerous notable works, and has received significant acclaim in the field of contemporary art with exhibitions at major museums around the world. This is the first large-scale solo exhibition held at a Japanese museum by the artist.
Music, Art, Comics and Film…

A Means of Expression Through Sampling
Since the 1970s, Christian Marclay has pioneered techniques of sampling and collage. Visitors are invited to enjoy a vast selection of works spanning the artist's career which demonstrate how he translates and re-mixes the existing world of music, art, manga, and movies, as well as graffiti found on the street into compelling works of art.
Intersections Between Sound and Image Experienced Through Large-Scale Installations
Marclay's large-scale installations offer viewers the previously unknown experience of "seeing sound / listening to images." Installations will include Marclay's masterpiece Video Quartet (2002), an audio-visual composition made from sampled film clips and shown on four contiguous video screens, and Surround Sounds (2014-2015), a symphonic maelstrom of animated onomatopoeias cut out from comic books and choreographed to suggests the acoustic properties of each word.
Artist Profile
Christian Marclay was born in California, USA in 1955, and was raised in Geneva, Switzerland. He received his Bachelor of Fine Arts from the Massachusetts College of Art in Boston, and continued his studies at Cooper Union in New York. Long based in Manhattan, in recent years he has been living in London. In 1979 Marclay presented his first performance using turntables, and quickly gained recognition as an important figure in experimental music for his pioneering approach to records as interactive musical instruments. In addition to improvisational performances, since the 1980s he has been known for his artworks exploring the connections between sight and sound.
At the 54th Venice Biennale (2011), Marclay was recognized as the best artist in the official exhibition, winning the Golden Lion for his work The Clock (2010). He has presented solo exhibitions at major museums throughout the world such as the Los Angeles County Museum of Art (Los Angeles, California, USA, 2019), Barcelona Museum of Contemporary Art (Barcelona, Spain, 2019), Aargauer Kunsthaus (Aarau, Switzerland, 2015), Whitney Museum of American Art (New York, USA, 2010), in addition to releasing several albums such as Record Without a Cover (1985), More Encores (1988) and Records (1997). He has performed and recorded with numerous musicians including John Zorn, Elliott Sharp, Sonic Youth, Fred Frith, Steve Beresford, Okkyung Lee, and Otomo Yoshihide.
Information
Exhibition Period

Sat. 20 November. 2021 – Wed. National Holiday. 23 February. 2022

Closed

Mondays (except 10 Jan, 21 Feb. 2022), 28 Dec. 2021– 1 Jan. 2022, 11 Jan.

Opening Hours

10:00 - 18:00 (Tickets available until 30 minutes before closing.)

Admission

Adults – 1,800 yen / University & College Students, Over 65 – 1,200 yen / High School & Junior High School Students – 600yen / Elementary School Students & Younger – Free

* Ticket includes admission to the MOT Collection exhibition.
* Children younger than elementary school age need to be accompanied by a guardian.
* Persons with a Physical Disability Certificate, Intellectual Disability Certificate, Intellectual Disability Welfare Certificate, or Atomic Bomb Survivor Welfare Certificate as well as up to two attendants are admitted free of charge.

Venue

Museum of Contemporary Art Tokyo Exhibition Gallery 1F

Organized by

Museum of Contemporary Art Tokyo operated by Tokyo Metropolitan Foundation for History and Culture
Events
Some of Christian Marclay's works are not only visual art, but also "graphic scores" for musicians, changing in the present time. As public programs of this exhibition, musicians living in Japan will improvise their own translations of Christian Marclay.
=below events finished=

Sunday, November 21, 2021
NO!

by

∈

Y

∋
To be continued by Jim O'Rourke [guitar], Tatsuhisa Yamamoto [drums], Marty Holoubek [bass], Eiko Ishibashi [flute], and Kei Matsumaru [saxophone]
Time|15:30-16:30(Doors open at 15:00)
Venue|Museum of Contemporary Art Tokyo, B2F Auditorium
Fee|Free. "Christian Marclay Translating" exhibition ticket is required to gain entry to this event.
Reservation | Required.
The application is closed because it is full.

*Your personal information is strictly managed based on the policy regarding the protection of personal information. For more details, please check the "Privacy Policy".
Saturday, January 15, 2022
No!

by KOM_I

Ephemera: A Musical Score

by Otomo Yoshihide

Time|15:30-17:00(Doors open at 15:00)
Venue|Museum of Contemporary Art Tokyo, B2F Auditorium
Fee|Free. "Christian Marclay Translating" exhibition ticket is required to gain entry to this event.
Reservation | Required.
The application is closed because it is full.


Sunday, January 16, 2022
No

!

by Fuyuki Yamakawa

Manga Scroll

by Makigami Koichi



Time|15:30-16:45(Doors open at 15:00)
Venue|Museum of Contemporary Art Tokyo, B2F Auditorium
Fee|Free. "Christian Marclay Translating" exhibition ticket is required to gain entry to this event.
Reservation | Required.
The application is closed because it is full.

*Your personal information is strictly managed based on the policy regarding the protection of personal information. For more details, please check the "Privacy Policy".

Exhibition teaser
Exhibition Catalogue
On sale at the museum shop and NADiff online site.
The first Japanese publication on Christian Marclay, the catalogue features images of exhibited works, artist interviews, conversations and essays by key commentators such as Tone Yasunao, David Toop, and Douglas Kahn, as well as newly written texts by Otomo Yoshihide, Nakagawa Katsushi (researcher in music and sound studies) and Ryan Holmberg (art and comics historian). The catalogue nclude a timeline, archival materials and a comprehensive selection of references to Marclay's artistic activities in Japan.

Publisher: Sayusha Publishing
Publication date: 31 March 2022
Price: 3,960 yen (Including tax)
ISBN:978-4-86528-056-2
Design: Natsuko Yoneyama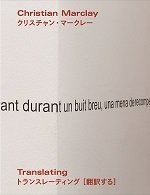 ---
* All programs are subject to change.