Exhibition Ontline
A solo exhibition presenting the work of Kohei_NAWA (1975-), who develops sculpture and spatial expressions utilizing the concept of the'Cell'. NAWA uses fluid matrials and media, such as beads, prisms, expanded polyurethane, silicone oil, etc., as metaphors for the senses and thoughts of the information society, creating equivocal expressions of the reality of the body, perception, and a sensitivity that wavers between digital and analog. In addition to his work in various categories, such as BEADS/PRISM/LIQUID/GLUE/SCUM/DRAWING etc., also he is active and recognized internationally, collaborating with people in the fields of music, fashion and product design, as well as producing public art in team project. This exhibition will explore the origins and boundaries of NAWA's synthetic interface; the interface which connects the senses and the material, our "skin", while simultaneously pondering approaches to future work.
Highlights of the Exhibition
The First Major Exhibition at a Public Institution
While NAWA was studying sculpture at Kyoto City University of Arts he also spent some time at the Royal College of Art in the UK before receiving a PhD. for his doctoral dissertation on'Aesthetics and Surface Skin - a Methodology in Contemporary Sculpture'in 2003. Even early in his university career he was active both at home and abroad, participating in numerous exhibitions and winning various awards. He is now recognized as one of the Japan's leading young artists and we are delighted to be able to hold a long-awaited major exhibition of his work.
Presenting an Overview of his Various Categories of Work
This exhibition is the first to present a comprehensive view of all the various categories of work NAWA has produced to date.
BEADS: In this series stuffed animals, etc., which were purchased on the Internet, are covered with transparent beads to create what he describes as'PixCell'.
PRISM: The concept of a'Cell'as a vessel of the image is expressed through the form of box covered in a prism sheet that splits the light, causing the object that should exist within it to appear as a virtual image according to the angle at which it is viewed.
LIQUID: Bubbles appear and vanish on the surface of white, fluorescent, silicone oil, expressing the countless'cells'that are produced to stimulate sight and touch.
GLUE: A painting/sculpture, created on the wall using a glue gun that grows like'ivy'.
SCUM: A surface created of expanded polyurethane produces PixCell bubbles like'scum', representing the blunted swelling of our senses.
OTHER WORKS: Among his other varied experiments presented here is'Dot-Movie', a video-installation work in which spots of paint have been dropped, one by one, to create a dot pattern in which their mechanical alignment struggles against the analog fluctuations resulting from the manual process. This exhibition will also present a painting entitled'Drawing'and other new experiments.
Display Design Incorporating Space, Light and Movement
A large number of works, ranging from the small to the large, will be displayed in a dynamic manner in the Exhibition Gallery and the entire Atrium space. The displays will allow visitors to walk around individualistic spaces that have been arranged according to category. The display space has very few captions or explanations, leaving the visitors free to walk around as much as they like, considering the mutual relationships and origins of the works. Generally, his exhibitions show each individual category separately, but in this one, the divisions between the categories will present'metamorphosing shapes'etc., allowing the viewer to look at and experience the entire world created by the works that fill the gallery.
Diverse Collaborations - Books of Work
After the exhibition has opened, it is planned to publish a catalogue consisting of beautiful visuals, photographic records, text by the artist, discussions, documents and data, which will become the standard text on Kohei NAWA's early period. This exhibition will round up with a display of various collaboration works that NAWA has produced (music, fashion, public art, product design, etc.), including commercial projects. It will incorporate experimental display techniques produced in cooperation with research institutions to support this exhibition. We hope that you will take this opportunity to experience the equivocal development of world he creates through his work, together with the various events that will take place during the exhibition. (For further details please refer to the museum's website.)
Venue:
Museum of Contemporary Art Tokyo (MOT)
Exhibition:
Saturday, June 11 ‒ Sunday, August 28, 2011
Closed on:
Mondays (except July 18, August 15・22)and July 19
Opening Hours:
10:00-18:00 *Open until 20:00 on Saturdays during August
(Last admittance: 30 minutes before closing)
*Due to the effect on the scheduled blackouts by Tokyo Electric Power Company, the Museum's opening hours may subject to change.
For the latest information, please check our website.
We apologize for the inconveniences caused and appreciate your cooperation.
Organized by:
Tokyo Metropolitan Foundation for History and Culture, Museum of Contemporary Art Tokyo
Co-organized by:
SANKEI SHIMBUN CO., LTD.
Supported by:
Shiseido Co.,Ltd.
In cooperation of:
SCAI THE BATHHOUSE / SANDWICH / ULTRA SANDWICH PROJECT#1-6 in Kyoto University Art and Design / Peng Pei-Cheng Collection / Queensland Art Gallery / Nomart Inc. / ARARIO GALLERY / Sogo & Seibu Co., Ltd. / SENHA&Co. / ABC TRADING CO.,LTD., INSUL-PAK SALES DEPT. / DIC Corporation / Shin-Etsu Chemical Co., Ltd. / Mazuka 3D Works Inc. / K's Design Lab. / TOLI Corporation / De L Associates inc. / Nihon Network Support Co., Ltd. / OptoCode Corporation / GENERALASAHI CO.,LTD. / Bean Sprout Tokyo / TOSHIO SHIMIZU ART OFFICE / Panasonic Electric Works Co, Ltd. / NEC Display Solutions, Ltd. / Hewlett-Packard Japan, Ltd. / MARUBENI INFORMATION SYSTEMS CO., LTD. / Takeshi Naemura and Tomoko Hashida, Naemura Laboratory, The University of Tokyo / Yasuaki Kakehi Laboratory, Keio University / Kyoto University, Graduate School of Engineering, S.Matsubara Group / KOWA Co., Ltd. / BEAMS ARTS
Admission:
General: ¥1100(¥880) / Students and 65 and older: ¥800(¥640) / Jr.High and High: ¥600(¥480) / Elementary and younger: Free
Note:
( ) includes group rates (20 or more) / Exhibition ticket includes admission to the MOT Collection / Joint admission ticket allow entry to the"Frédérick Back"exhibition as well
Staff:
Curator: Tomoe Moriyama
Press: Kumiko Ohara
Tel. +81-5242-1134(Direct line to Press) Fax.+81-3-5245-1141
Enter here for the Official Website
KOHEI NAWA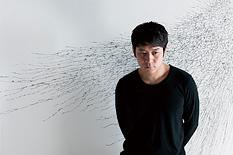 1975.9 Born in Osaka, JAPAN. 1994-1998 Kyoto City University of Art, B.A. Fine Art Sculpture. 1998-1999 Royal College of Art, Sculpture course, Exchange program. 2003 Kyoto City University of Art, Ph.D. Fine Art Sculpture. In 2005, he stayed in New York, for Asian Cultural Council (ACC) Japan-United States Arts Program. In 2006, he stayed in Berlin, for DaimlerChrysler foundation in Japan art support activity program"Art Scope 2005-2006". And he was remarkable by the solo exhibition at SCAI THE BATHHOUSE. He held a lot of solo and group exhibitions in Japan and overseas. Starting from an awareness of outer layers or skins, he transforms materials into different forms of expression, based on the concept of "Cell", and metaphors for perception and thought. In 2009, he held a solo exhibition"L_B_S"at Maison Hermès, Ginza Tokyo. In overseas, he held a solo exhibition at GALERIE VERA, Hamburg German, and collected from the praise of local art collectors and participants. Also, he took part in"The 6th Asia Pacific Triennial of Contemporary Art", Brisbane Australia, and attracted much attention as the highlight of the international exhibition, for example, the photograph of his work was used the cover of the exhibition catalog. In 2010, he was an artist of Japanese representative in Busan Biennale and Bangladesh Biennale. And he won the Grand Prize in Bangladesh Biennale. In addition, he released concept model of the cellular phone as Art Editions of iida by KDDI, set up a public art in Toyosu, and produced a music video for a famous musician, etc., so he has expanded more his range of activities. On the other hand, in 2009, he opened the platform for the creation "SANDWICH" (Fushimi, Kyoto) that renovated the old sandwich factory. He has produced his own works there, and also, has been managed the studio, where the creator of various genres such as artists, designers and architects meets and projects progresses, as a director. Now, he teaches as an associate professor of Kyoto University of Art and Design, and in ULTRA FACTORY to which artist Yanobe Kenji serves as the director, he held a team project"2010 ULTRA SANDWICH PROJECT"with a lot of students, which was able to witness and to experience closely whole contents of his activities as an artist, for example, a material experiment and technological development in "Clean room", etc.
[GRANTS / AWARDS]
| | |
| --- | --- |
| 1998 | "a boy and divine beasts" Alumni Association's Award/Annual Exhibition 1998 (Kyoto City University of Arts) |
| 2003 | Umehara Prize/Kirin Art Awards 2003/The highest award of Selected Artists_in Kyoto |
| 2004 | Grant of the city of Osaka (Sakuya Konohana Prize) |
| 2005 | Grant of the city of Kyoto |
| 2007 | Award of Kyoto Prefecture Culture |
| 2008 | Jury's Prize of ROPPONGI CROSSING 2007 |
| 2010 | Grand Prize 1st of 14th Asian Art Biennale Bangladesh 2010 |
[SOLO EXHIBITIONS/GROUP EXHIBITIONS]
| | |
| --- | --- |
| 2002 | "CELL", Nomart Edition / Project Space, Osaka |
| 2005 | "Visualize - The history and the futurescape of visual media", Tokyo Metropolitan Museum of Photography, Tokyo, Biennial of Valencia "Thoughts of a Fish in the Deep Sea", Valencia |
| 2006 | "GUSH", SCAI THE BATHHOUSE, Tokyo |
| 2008 | "The poetry of bizarre", Fundacio Joan Miro , Barcelona Spain |
| 2009 | "Cell", GALERIE VERA MUNRO ,Hamburg German, "L_B_S", Maison Hermès 8th Floor Le Forum ,Tokyo/"The 6th Asia Pacific Triennial of Contemporary Art", Brisbane Australia |
| 2010 | He was an artist of Japanese representative in Busan Biennale and Bangladesh Biennale. And He won the Grand Prize in Bangladesh Biennale. In addition, he released concept model of the cellular phone as Art Editions of iida by KDDI, and set up "VIA-Wall", as a public art, in the office building Toyosu Front, Toyosu. Solo Exhibition "Synthesis", SCAI THE BATHHOUSE, Tokyo. |
| 2011 | Solo Exhibition, Museum of Contemporary Art Tokyo, Tokyo. |
[PUBLIC COLLECTIONS]
Hara Museum, Tokyo / Takamastu city museum of Art, Kagawa / Museum of Contemporary Art Tokyo, Tokyo / Mori Art Museum, Tokyo / Entrance lobby of Takenaka Corporation Tokyo Main_Office, Tokyo / Shin-Marunouchi Building, Tokyo / Toyosu Front, Tokyo / The Sovereign Art_Foundation, Hong Kong / Franks Suss Collection, London / DaimlerChrysler Contemporary, Berlin / Pigozzi Collection, USA / Queensland Art Gallery, Brisbane and more