Constellations
― Practices for Unseen Connections/Discoveries
Outline

Since ancient times, people have gazed up at the myriad stars that gleam in the night skies, linking them freely to create the constellations. It is known that the idea of 'constellations' dates back several thousand years B.C., with the people of the civilizations in Mesopotamia, Egypt, Greece and Asian countries, seeing animals, human figures and gods within the patterns created by the glittering stars. Different places and cultures gave free rein to their imaginations to overlay the night skies with images of their myth, folk tale and their interpretation of the world.
In the field of psychology, internal aspects of a person's mental state sometimes combine with incidental external issues on a deep level, and it is possible to link these individual events to create a form of 'constellation' providing a deeper awareness/understanding of the individual. These are referred to as psychological constellations.
Human beings have a tendency to subconsciously search for links between objects or events that at first glance appear unrelated, imbuing them with meaning. This is a perceptive mechanism that developed to help them confront the vastness and chaos of the world.
This exhibition will introduce experiments by artists who take various invisible points that exist scattered throughout the world and discover 'connections' that link them, grasping these as new 'constellations'. They use their keen perception to discover the invisible connections that exist between 'this place', where we are now, and 'somewhere else', between 'now' and 'another time', between 'self' and some apparently unrelated 'other', converting these relationships or meanings into paintings, videos or installations.
The works in which reality intersects with imaginary worlds--the people who visit this exhibition will be able to search for connections between these seemingly unrelated and estranged works, as if looking up at the night skies, lured into searching for 'constellations' that will link them with something else.
Living in modern cities, we have little opportunity to experience the star-filled skies; surrounded by a vast quantity of words and images, our opportunities to create our own constellations have become limited but we hope that this exhibition will pose 'questions' that spur you to discover the unseen connections that lie somewhere in the world and allow you to 'practice' the creation of something new.
Exhibition Highlights
Something and Something are Linked―7 Unknown Stories
Ordinary things that tend to be overlooked in everyday life, common knowledge that is accepted without question--this exhibition will introduce seven stories by seven artists that will transform your perception of these. Nobuhiro SHIMURA, who draws on the history of the waterways to be found in the vicinity of the museum; Takayoshi KITAGAWA, who creates a fictional corridor that connects with the deeper recesses of the museum that are generally not exposed; Takayuki YAMAMOTO, who focuses on the human predilection to find connections with the unknown--the worlds created by these artists connect and reverberate with somewhere else. They provide us an opportunity to discover personal 'unseen constellations' within the gallery.
Creation of an "Earth Painting" Mural
Yusuke ASAI travels the world-the U.S., India and Japan, using the earth he finds locally as the medium to create his paintings. In this exhibition he will use earths collected from around the world as well as those collected in the neighborhood of the museum, to produce an 'earth painting' that will fill the 20-meter-long wall of the gallery. This mural will present an image of a world in which all living beings come together, mixing to create an overpowering dynamism and as he will be adding to it throughout the period of this exhibition, it will continue to grow and change. This open studio can be viewed occasionally offering people a unique opportunity to witness this artist at work.
Go Out Into the Streets on a Journey to Search for 'Constellations'
Even after having viewed this exhibition and left the museum, there will still be 'unseen constellations' that remain to be discovered. Saburo OTA's works relate to locations connected with the haiku poet, MATSUO Basho and you can explore the area surrounding the museum looking for the artworks that are scattered around it. You may discover a 'star' of your own somewhere in this area, with which you have no connection. In the nearby Fukagawa shiryokan Avenue Shopping Street you will find Hisaya ITO's unique Mise-ha(shop owner's school) project, and there are appealing creatures by Yusuke Asai lurking in the windows of the various stores--there are works hiding all over the place!
Artists
Yusuke ASAI, Hisaya ITO, Takayoshi KITAGAWA, Nobuyuki OSAKI,
Saburo OTA, Nobuhiro SHIMURA, Takayuki YAMAMOTO
Organized by:
Tokyo Metropolitan Foundation for History and Culture, Museum of Contemporary Art Tokyo
Supported by:
Bloomberg L.P.
In collaboration with:
Fukagawa shiryokan Avenue Shopping Street Cooperative Society, Kiba Park, Kiyosumi Gardens, Basho Museum, Fukagawa Edo Museum, Tomioka Hachimangu Shrine, Grantchester House, SHIMOJIMA Co.,Ltd.,Dio Chemicals, Ltd., ASAHI-SHUZO SAKE BREWING CO., LTD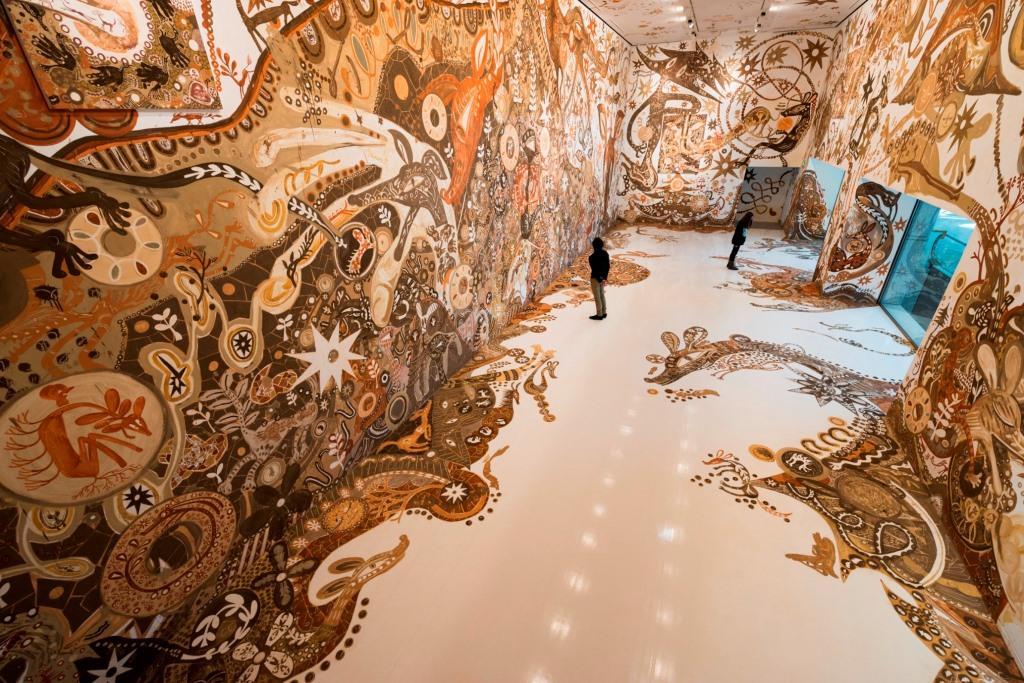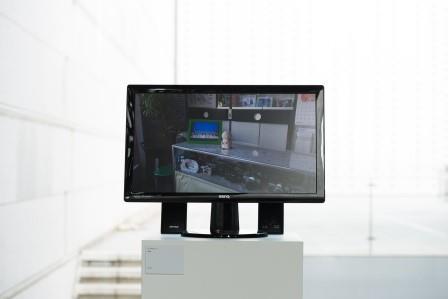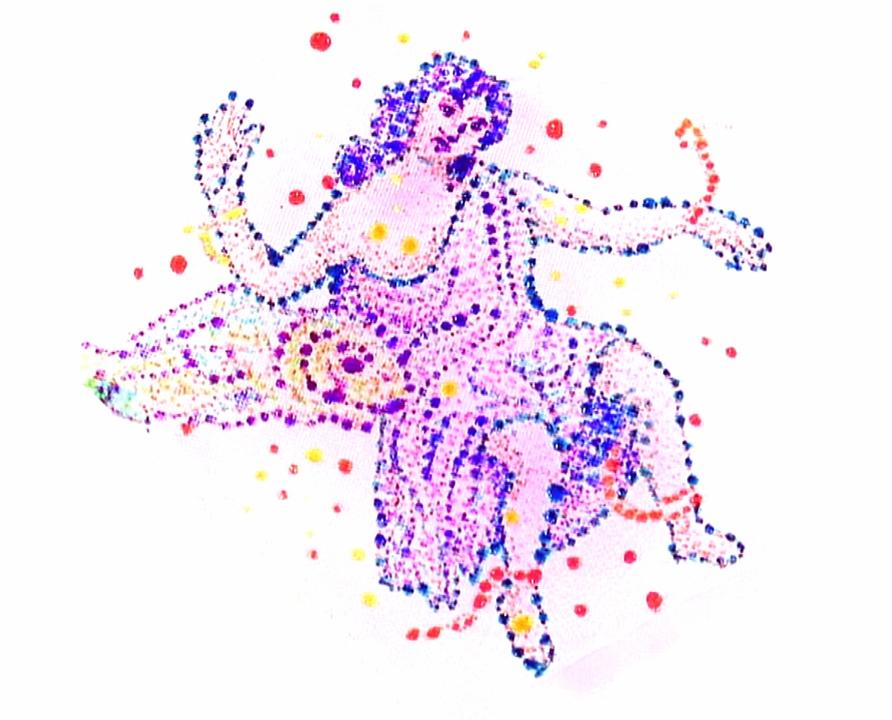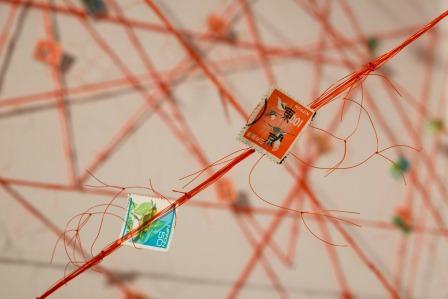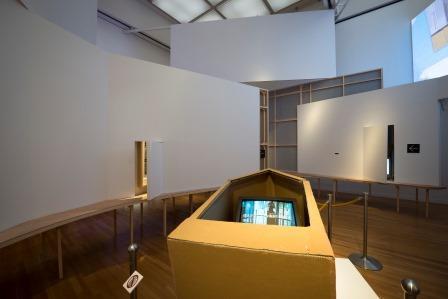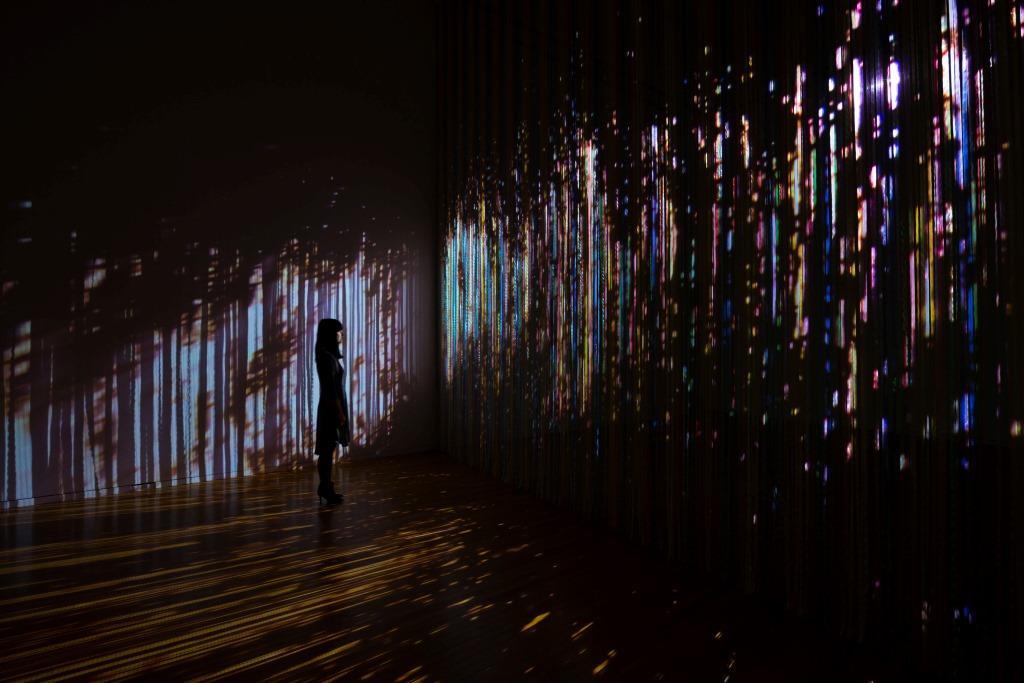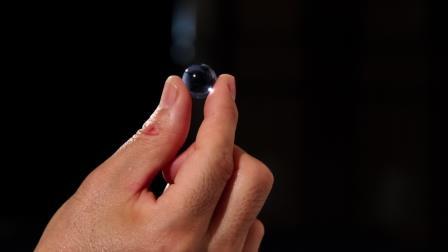 From left to right, top to bottom:
Yusuke ASAI,
life Dwells Evetywhere, Anyway
, 2011/2015 Photo: Ken Kato
Hisaya ITO,
Mise-ha(Mise School)
, 2015 Photo: Ken Kato
Nobuyuki OSAKI,
water drawing-stardust-
, 2007-2008
Saburo OTA,
Bird Net-Everything in the world is linked-
, 2015 Photo: Ken Kato
Takayoshi KITAGAWA,
Crossing boundaries, the boat cirsulates, and the Museum appears.
, 2015 Photo: Ken Kato
Nobuhiro SHIMURA,
Dress,
2012/2015 Photo: Ken Kato
Takayuki YAMAMOTO,
Facing the Unknown
, 2012
Yusuke Asai
Born in Tokyo, 1981. Graduated from the ceramic art course at Kamiyabe High School (Kanagawa Prefecture) in 1999. Currently lives in Kumamoto Prefecture.
Freely employing materials he finds in his surroundings, such as earth, masking tape, dust, flour, etc., he is equally happy to work either inside or outdoors, adopting an animistic approach and creating paintings of human figures or animals that proliferate endlessly. For this exhibition he intends to use earth from both the vicinity of the museum and overseas to create a large-scale 'earth painting' mural. He also plans to take part in an art project in the Fukagawa Edo Museum Shopping Street, that links Kiyosumi-shirakawa Station and this museum.
Hisaya ITO
Born in Tokyo, 1987. Completed a graduate course in Intermedia Art at the Tokyo University of the Arts in 2014. Currently lives in Tokyo.
This artist's works reexamine the lives of the people on the streets: a video work recording a journey he made with his grandmother to explore his family's roots or an interview work describing the daily lives of the elderly people who inhabit a small village on the island of Shodoshima. For this exhibition he plans to carry out a project in which he collaborates with the shopkeepers in a shopping street near the museum to place 'small talismen in their stores'. It shines a spotlight on the quiet history of the stores.
Takayoshi KITAGAWA
Born in Osaka, 1974. Graduated from the Department of Architecture, Musashino Art University, in 1999. Currently lives in Tokyo.
This artist intervenes positively with nature or the manmade objects that surround us all, for instance, drilling numerous holes in an existing prefabricated building or laying a large number of old tires in a park. He uses the social context of a site or environment as the material or structure for his work, reinterpreting it in a bold fashion. In this exhibition he plans to present an installation work on the theme of the Museum of Contemporary Art Tokyo itself, making visible both its external and internal aspects, while questioning the system that supports the 'circumstances of the museum.'
Nobuyuki OSAKI
Born in Osaka, 1975. He completed a graduate course in the Department of Painting (printmaking) at Kyoto City University of Arts in 2000. Currently lives in Aichi Prefecture / Osaka.
Using video works based on his own paintings or wallpaper images that merge and melt away, as well as a pinhole camera shaped like a human body, he continues to create allusions to the ambiguous perspectives or subjective impressions formed within the complicated contemporary environment. In this exhibition he will present a video work that invites us to reconsider the mental mechanisms through which we perceive 'constellations'.
Saburo OTA
Born in Yamagata Prefecture, 1950. Graduated from the Department of Mechanical Engineering of Tsuruoka National College of Technology. Currently lives in Okayama Prefecture.
This artist uses the 'postage stamp' format to create visible expressions of points of contact between people's daily lives and society. He creates his own 'stamps' containing seeds collected from around the country, produces works using postmarks or builds installations comprising of old, used postage stamps, instilling an awareness in the viewer of the history, social meaning or stories concealed in small everyday things. In this exhibition he will present a work on the theme of the haiku poet, MATSUO Basho, who set out from his home, which was situated near present site of the museum, more than 300 years ago to make a wandering journey that would later result in his great anthology of haiku poems, 'The Narrow Road to the North' (Oku no hosomichi), etc.
Nobuhiro SHIMURA
Born in Tokyo, 1982. Completed a graduate course in Imaging Art, Musashino Art University in 2007. Currently lives in Yamaguchi Prefecture.
He has created numerous projection installations employing everyday images that we are used to seeing, such as pencils, drawing pins, matches, etc., and altering their scale. He captures the context of the location in which the work is to be displayed and through its dissimilation, creates an image of the history or story that resides there, introducing it quietly to the mind of the viewer. In this exhibition, he plans to present a new video work that unravels the history of the downtown area in which the museum is situated.
Takayuki YAMAMOTO
Born in Aichi Prefecture, 1974. Completed a graduate course in Art Education at Aichi University of Education in 1999. Completed a Master's Course in Fine Art at Chelsea College of Art and Design, U.K., in 2002.
Using a child's viewpoint or sensibility, he captures the contradictions or dilemmas underlying the social system or customs that cannot be expressed through words, revealing these in a humorous manner.
In this exhibition he will present a video work that carefully records the expressions of surprise or bewilderment that appear on the faces of children when confronted with 'the unknown'. By linking multiple data, he makes visible the complicated process through which things become 'known'.
Information
Period
Jan 24 (sat)-Mar 22 (sun) 2015

Closed on
Mondays
Venue
Museum of Contemporary Art Tokyo (MOT) Exhibition Gallery 1F
Opening Hours
10:00-18:00
*Last admission to the gallery floor & last ticket purchase is 30minutes before the closing hour.
Admission
Adults: 1,100yen
University Students, Over 65: 800yen
High School & Junior High Students: 600yen
Elementary School & Under: Free
*( ) Price for a group, over 20 people*Free entry to MOT Collection for ticket holders

Access
From Kiyosumi-Shirakawa Station on the Hanzomon Line: 9min. walk from the B2 exit.
From Kiyosumi-Shirakawa Station on the Toei Oedo Line: 13min. walk from the A3 exit.
Inquiry
+81-3-5245-4111(General Information)
+81-3-5405-8686(Hello Dial)
Also Showing
KISHIO SUGA_Situated Latency
Jan 24 (sat)-Mar 22 (sun) 2015
Gabriel Orozco - Inner Cycles
Jan 24(Sat)-May 10(Sun) 2015
Twentieth Anniversary
Special MOT Collection "Collection Becoming"
Jan 24(Sat)-Jun 28(Sun) 2015